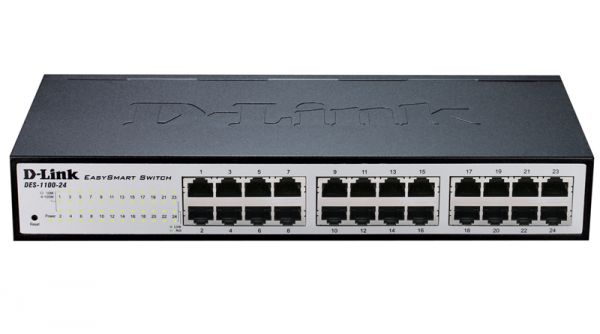 DES-1100-24
מתג מנוהל WEB עם 24 פורטים במהירות 10/100Mbps
היכן לקנות
תאור
D-Link DES-1100-16/24 is the latest series of EasySmart Switches. Equipped with 16 or 24 10/100Mbps ports, the series integrates basic configurable functions that provide performance and scalability. With easy to use management interface via PC Utility or Web Browser, these EasySmart series help customers to quickly and easily deploy their network. The DES-1100 Series provides a complete and affordable solution for Small and Medium Business or communities without IT staff. They are suitable for Enterprise deployment, such as branch offices and meeting rooms that require simple management. Management options for the switches include Web Management and SmartConsole Utility. The series also supports Layer 2 features such as port Mirroring, Statistics and IGMP Snooping to optimize performance for multicast applications. Both models come with an innovative fanless design in compact 11"metal cases.
Resilience/Performance Enhancement
Equipped with a complete lineup of L2 features, these switches include IGMP Snooping and Port Mirroring. Network maintenance features include Loopback Detection and Cable Diagnostics. Loopback Detection is used to detect loops created by a specific port and automatically shuts down the affected port. Cable Diagnostics is designed for network administrators to quickly examine the quality of the copper cables and also determine the type of cable error. For Quality of Service (QoS), the switches support 802.1p. This standard is a mechanism that allows real-time traffic classification into 8 priority levels mapped to 4 queues.
Traffic & Security Features
The DES-1100 series supports 802.1Q VLAN and Portbased VLAN, for traffic segregation. The bandwidth control feature allows network administrators to define the throughput levels for each port in order to manage bandwidth. It also provides fine granularity to define the ingress/egress traffic limits down to 512 kbps segments. The Storm Control feature allows detection when broadcast, multicast or unknown unicast traffic hit the definable threshold. The switch will start blocking or discarding packets which would otherwise 'flood' the network. The blocked port will be activated only when the broadcast or multicast traffic falls below the defined threshold. Port Mirroring helps administrators facilitate traffic diagnostics or track switch performance and alter when necessary.
Versatile Management
The EasySmart Switches supports an intuitive SmartConsole utility and a web-based management interface that enables administrators to remotely control their network down to the port level. The SmartConsole easily allows customers to discover multiple D-Link EasySmart Switches within the same L2 network segment. With this utility, users do not need to change the IP address of their PC and it also provides an easy initial setting of the Smart Switches. Switches within the same L2 network segment that are connected to the user's local PC are displayed on screen for instant access. This enables discovered devices basic switch configuration settings such as password changes and firmware upgrades.
מאפיינים כללים
Interface
• 24 10/100BASE-TX

Functions of the port
• Compliance with IEEE 802.3
• Compliance with IEEE 802.3u
• Support for operations in the full/half duplex
• Negotiation
• Auto MDI/MDI-X
• IEEE 802.3x flow control for full duplex

Switching matrix
• 4.8 Gb/s
   
Max. speed packet forwarding
• 3,57 Mpps

MAC-address table
• 8K

Packet buffers
• 1.75 Mbit / s

Flash-memory
• 1 MB

Indicators
• Power (per device)
• Link / Activity / Speed ​​(per port)

Layer 2 features
• Table of MAC-addresses: 8K
• IGMP Snooping
• Static aggregation:
  - Max. 2 groups on the unit and 2-4 ports per group
• Flow Control
• Loopback Detection Function
• Port Mirroring
  - One-to-One or Many-to-One
  - Tx, Rx, and both
• Statistics Support 4 groups:
  - Sent packets and collisions
  - Received and Sent Packages
  - Received and dropped packets
  - Received packets and CRC errors

VLAN
• 802.1Q Tagged VLAN
• Group VLAN:
  - Support for 32 static VLAN-groups
  - VID 1-4094
• VLAN port-based

Quality of Service (QoS)
• Bandwidth Management:
  - Based on the port (in / out)
  - With pre-defined step 512 kbit/s/1024 kbit / s / 2048 kbit / s / 4096 kbit / s / 8,192 kbit/s/16384 kbit/s/32768 kbit / s /
• 4 queues per port
• 802.1p
• Managing Queues
  - Strict Priority
  - Weighted Round Robin (WRR)

Security
• Static MAC (Max. number of static MAC-address records: 128)
• Control of broadcast / multicast / unicast storms

Management
• Access to web-based interface (Supports IPv4)
• Utility SmartConsole
• Password based access managment
• Port settings: Set the speed, duplex mode, flow control
• Backup/Restore configuration file via HTTP