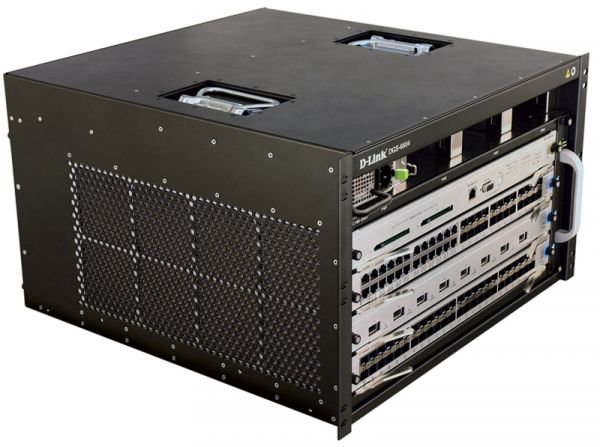 DGS-6604
מיועד לפרויקטים
מארז 4 סלוטים מודולריים עד 576Gbps
היכן לקנות
תאור
The D-Link's DGS-6600 series chassis-based switches are intelligent and high-performance multi-layer LAN devices designed for Enterprise local area networks (LAN). They are ideal for deployment in environments that require uninterrupted running of network applications and a high level of performance, security and control.

Featuring a flexible modular architecture and industry standard compliance, these switches provide scalable expansion and a high level of investment protection for businesses to deploy Gigabit and 10-Gigabit packet switching and routing for office networking and Ethernet-based Internet services to homes.

The DGS-6600 series is equipped with high-speed switch fabric, and advanced software functions, including complete IPv6 support. These switches provide the performance, high availability and futureproof architecture suitable for applications of not just today, but those of the future.

Flexible Modular Design
The DGS-6600 series is now available in a 4-slot chassis model, the DGS-6604. One open slot is reserved for a control module, and the other three slots can be fitted with user-selectable port modules. In addition to these open slots, there are four slots for redundant backup power supplies, and one slot for a replaceable fan module. This modular architecture allows modules to be gradually added to meet network growth, and modules can be easily swapped anytime to fit network requirement changes.

Deployable as an Aggregation Switch
Using a common set of modules for 10/100/1000BASE-T ports, PoE support, SFP, and 10-Gigabit uplinks, IT personnel can fit a DGS-6600 series switch with different port types and deploy it as an aggregation (i.e. distribution) switch which can provide high port density connections to workstations in an office environment.

High Performance
The DGS-6604 4-slot switch provides a switch capacity of up to 576 Gbps and system performance of up to 428.57 Mpps. To make use of this highperformance hardware, these switches utilize a distributed switching method where each line card (the port module that directly connects to the network nodes) intelligently determines the switch path for each data packet. The switches synchronize the switching and routing information between the control cards and the line cards to map out the fastest data transfer path. With each line card capable of performing L2/3/4 on-board packet switching without relying on the control cards, the DGS-6600 series switches can deliver very fast packet forwarding at
almost zero-wait speed.

High Port Densities
Port densities can reach 144 Gigabit or 24 10-Gigabit ports per 4-slot chassis. All port modules are hot-swappable without requiring changes to any hardware or software settings. By providing up to 24 10GE ports with each port running at non-blocking rates, it can help enterprises migrate to a 10G backbone.

High Availability
The DGS-6604 provides up to 4 redundant loadsharing power supplies and a hot swappable fan module to create a very highly available chassisbased device suitable for mission-critical network applications.

Application Convergence
The DGS-6600 series combines high-speed hardware with software functions such as prioritized traffic QoS and multicast routing to deliver the performance needed for real-time applications such as Internet telephony, streaming multimedia, and IPTV. In addition, these switches offer Power over Ethernet (PoE) solutions to provide both electrical power and network connectivity to PoE-capable devices, such as IP phones and wireless APs, and are ideal for large-scale enterprise edge deployment. An example of this application convergence would be VoIP for mobile users via wireless access points connected through the DGS-6600 series switches.

Complete IPv6 Support
The DGS-6600 series provides complete support for IPv6 to accommodate the potential huge increase in number of users and geographical needs of Internet expansion. It addresses the requirements of emerging applications such as Internet-enabled wireless devices, home and industrial appliances, Internet-connected transportation, integrated telephony services, sensor networks, and distributed computing or gaming. The use of globally unique IPv6 addresses simplifies the mechanisms used for reachability and end-to-end security for network devices. This is crucial for the applications and services that are driving the demand for IP addresses.

Enterprise-Wide Security
The DGS-6600 series provides not only network access security but also protection against virus and worm attacks. Access security is provided through comprehensive policy-based ACL, port security, and IP-MAC-Port binding features. Attacks hidden behind control protocols are thwarted, preventing the switch's CPU from being overwhelmed with unnecessary tasks which can cause degradation to a network's performance. The DGS-6600 series extends security to network management via such functions as SSH v2 and SNMP v3 with authentication and encryption of management traffic.

Traffic Management for Triple Play
The DGS-6600 Series implements a rich set of multilayer QoS/CoS features including flow-based bandwidth control and broadcast/multicast storm control to ensure that critical network services such as VoIP, video conferencing, IPTV, and IP surveillance are served with high priority. Bandwidth control guarantees bandwidth of these services when the network is busy. With L2 Multicast support, the DGS-6600 series is capable of handling growing IPTV applications.

D-Link Green Technology
D-Link is striving to take the lead in developing innovative and power-saving technology that does not sacrifice operational performance or functionality. The DGS-6600 series incorporates D-Link Green Technology, which includes a power saving mode, Smart Fan, and Time-based PoE. The power saving feature automatically powers down ports that have no link or link partner. The Smart Fan feature allows for the built-in fans to automatically turn on only if a specified temperature is exceeded, providing continuous, reliable and eco-friendly operation of the switch. Time-based PoE is able to turn PoE on/off per port by a pre-defined time profile to reduce PoE power consumption.
מאפיינים כללים
Hardware (chassis)
• Number of slots: 4
• Number of slots in the chassis (for control modules): 1
• Free slots (modules): 3
• Switching matrix 576 Gbit / s
• Max. speed forwarding packets: 428, 57 Mpps

Max. port density
• Ports 10/100/1000BASE-T: 144
• Ports 10/100/1000BASE-T with support for PoE: 144
• Slot SFP: 144
• Slot 10 Gigabit Ethernet XFP: 24

Support List
• CPU: DGS-6600-CM
• Power supply: DGS-6600-PWR
• Fan power: DGS-6600-FAN

Supports LAN-ins
• DGS-6600-48T: 48-port 10/100/1000M
• DGS-6600-48S: 48-Port SFP
• DGS-6600-48TS: 24-port 10/100/1000M and 24 SFP ports
• DGS-6600-8XG: 8-port 10G XFP
• DGS-6600-48P1: 48 ports with PoE 10/100/1000M
• DGS-6600-24SC2XS1: 12-port SFP, 12 ports Combo (10/100/1000Base-T/SFP) and 2-port 10G SFP +

Functions of L2
• MAC-address table
  - Up to 32 K
• Flow Control
  - 802.3x Flow Control
  - HOL Blocking Prevention
• Jumbo-frame to 9.732 bytes
• IGMP Snooping
  - IGMP v1/v2/v3 Snooping
  - Support groups 2 K
  - IGMP Proxy
  - Fast Leave on a port-based
• Spanning Tree
  - 802.1D STP
  - 802.1w RSTP
  - 802.1s MSTP
  - Root Restriction
• 802.3ad Link Aggregation
  - Meets 802.1AX and 802.3ad
  - Max. 128 groups per device, 8 ports per group
  - Supports aggregation between ports of different linear modules (cross-module trunk)
• Port Mirroring
  - 3 groups mirroring
  - One-to-one
  - Many-to-one
  - Tx / Rx / Both
  - RSPAN2
• ERPS (Ethernet Ring Protection Switching)
  - MLD v1/v2 Snooping
  - Support groups 2K
  - MLD Snooping Fast
• Leave on the basis of host
• MLD Snooping2
• Loopback Detection2
• L2 Protocol Tunneling2

VLAN
• Group VLAN
  - Max. 4K VLAN groups
• GVRP
  - Support for 256 dynamic VLAN
• 802.1Q Tagged VLAN
• 802.1v Protocol VLAN
• VLAN-based port
• VLAN based on MAC-address
• VLAN-based subnet
• Double VLAN (Q-in-Q)
 - Q-in-Q port-based
 - Selective Q-in-Q2

L3 functions
• Max. number of IP-interfaces: 4K
• VRRP
• IPv6 Tunneling
  - Manual Setup
  - ISATAP
  - 6to4
• IPv6 Neighbor Discovery (ND)
• IPv6 Ready Phase2
• Proxy ARP2
• Spontaneous ARP (Gratuitous ARP) 2

L3 routing
• 12K of routing table entries IPv4/IPv6
• 8K entries in Table L3 IPv4/IPv6 switching
• 256 entries IPv4/IPv6 static routes
  - Support ECMP / WCMP2
• Routing based on politik2
• RIP
  - RIP v1/v2
  - RIPng (IPv6)
• OSPF
  - OSPF v2
  - OSPF v3 (IPv6)
  - Passive OSPF interface
  - Stub / NSSA Area
  - OSPF Equal Cost Route
• BGP v4
• BGP + v4 (IPv6) 2

Multicasting L3
• Groups of multicast: 1K
• PIM-DM
• PIM-DM v62
• PIM-SM
• PIM-SM v62
• PIM Sparse-Dense Mode2
• IGMP v1/v2/v3
• DVMRP v3

QoS
• 802.1p Class of Service (CoS)
• 8 queues
• Processing Queue
  - Strict Priority
  - Weighted Round Robin (WRR)
  - Strict + WRR
  - Deficit Round Robin (DRR)
  - Strict + DRR
  - WDRR
• CoS based on:
  - A switch port
  - VLAN ID
  - 802.1p priority queues
  - MAC-address
  - IPv4/v6-adresa
  - DSCP
  - Type of protocol
  - IPv6-class traffic
  - IPv6 flow label
  - TCP / UDP-ports
  - The contents of the package, determined polzovatelem2
• Support for the following streams:
  - Tagging 802.1p priority
  - Add a priority tag TOS / DSCP
  - Bandwidth Management
  - Guaranteed bandwidth (CIR), min. step up to 64 kbit / s
• Bandwidth Management
 - Port-based (incoming / outgoing, min. Step up to 64 kbit / s)
• QoS based on the time
• Three Color Marker
  - TrTCM
  - SrTCM

Access Control Lists (ACL)
• Ingress / Egress ACL
• ACL based on:
  - 802.1p priority
  - VLAN ID
  - MAC-address
  - IPv4/v6-adresa or IP-prefix
  - Priority of DSCP / IP
  - Such as IP-protocol
  - Number of TCP / UDP-ports
  - A combination of all of the above
• ACL-based time

Security
• SSH v2
• Port Security: up to 16 MAC-addresses per port
• Control of Broadcast / Multicast / Unicast Storm
• Prevent DoS attacks
• IP-MAC-Port Binding2
• Prevent attacks ARP Spooofing2
• D-Link Safeguard Engine2

AAA
• 802.1X
  - Access control based on port
  - Control access to the MAC-address
  - Dynamic VLAN Assignment
• Authentication on the RADIUS server
• Guest VLAN2
• Access control based on the Web (WAC) 2:
  - Access control based on port
  - Access control based on hostname
  - Dynamic VLAN Assignment
• Access control based on MAC-address (MAC) 2:
  - Access control based on port
  - Control access based on host
  - Dynamic VLAN Assignment

Management
• Command Line Interface CLI
• Management of Web-based interface (Supports IPv4/IPv6) 2
• Telnet-server
• Telnet-client
• TFTP-client
• DHCP-server
• DHCP relay
• DHCP relay option 82
• SNMP v1/v2c/v3
• SNMP Traps
• System Log
• RMON v1:
  - Support groups 1,2,3,9
• Flash File System
• Several versions of the software
• Several versions of the configuration
• The command debug (Debug command)
• SNTP
• Accounts with 15 levels of privilege
• A trusted host
• Password Recovery
• Support for Microsoft ® NLB2
• LLDP2
• sFlow2

D-Link Green Functions
• Power on the status of the connection
• Time-based PoE

Standard MIB / IETF
• DLINK-MSTP MIB
• DLINK-TC MIB
• Draft-ietf-idmr-dvmrp MIB-11, DVMRP-STD MIB
• IEEE Std 802.1X, IEEE8021-PAE MIB
• IEEE Std 802.3ad, IEEE8023-LAG MIB
• RFC1724 RIPv2 MIB
• RFC2787 VRRP MIB
• RFC2819 RMON MIB
• RFC2863 IF MIB
• RFC2934 PIM MIB for IPv4
• RFC3411 SNMP-FRAMEWORK MIB
• RFC3412 SNMP-MPD MIB
• RFC3413 SNMP-TARGET MIB
• RFC3413 SNMP-NOTIFICATION MIB
• RFC3414 SNMP-USER-BASED-SM MIB
• RFC3415 SNMP-VIEW-BASED-ACM

MIB
• RFC3418 SNMPv2 MIB
• RFC3584 SNMP-COMMUNITY MIB
• RFC3635 EtherLike MIB
• RFC4133 ENTITY MIB
• RFC4188 BRIDGE MIB
• RFC4273 BGP4 MIB
• RFC4292 IP-FORWARD MIB
• RFC4293 IP MIB
• RFC4363 P-BRIDGE MIB
• RFC4363 Q-BRIDGE MIB
• RFC4560 DISMAN-PING MIB
• RFC4560 DISMAN-TRACEROUTE MIB
• RFC4750 OSPF MIB
• RFC5060 PIM-STD MIB
• RFC5132 IPMCAST MIB
• RFC5240 PIM-BSR MIB
• RFC5519 MGMD-STD MIB