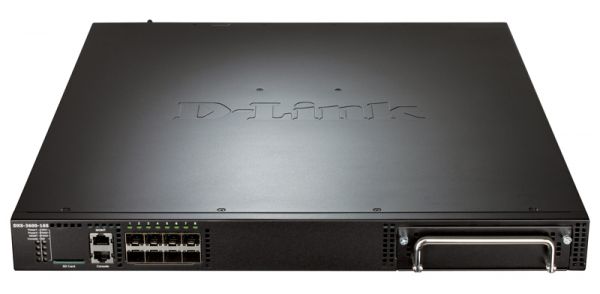 DXS-3600-16S
מיועד לפרויקטים
מתג מנוהל 8 פורטים SFP+, עם מודול הרחבה, עם ספק כח ושלושה מאווררים
היכן לקנות
תאור
Series 10-Gigabit Switch Layer 2/3 D-Link DXS-3600 includes a new compact, high-performance switches that support wire-speed 10-Gigabit switching Ethernet, routing, and very low latency. 1U in height and the ability to choose the direction of ventilation from back to front or vice versa make a series of DXS-3600 is very suitable for use in data centers, enterprises and campus-level aggregation. DXS-3600 switches have 8 or 24 fixed port 10GbE SFP + and can use more ports by adding an expansion module. The module will not only provide additional ports 10G SFP +, but also increase the flexibility of 120-Gigabit stacking, 40-Gbps links, and reduce the cost of connections mezhstoechnyh 10G Base-T for different applications.

DXS-3600 switches provide high performance 10 Gbps data transfer switch fabric up to 640 Gbit / s for DXS-3600-16S, and 960 Gb / s for DXS-3600-32S, and a top speed of packet forwarding 595,2 Mpps. Switches are equipped with power supplies and hot-swappable fans, indicating a highly developed architecture of these devices. Modular design allows you to select the power network with AC or DC depending on the location. When two power supply modules they share the load and will help extend the life of another module. DXS-3600 series also includes a modular scheme of the fans. Three fans may overlap, providing N +1 redundancy for the system. If one of the fans fails, the remaining fans increase their speed, automatically determine the temperature of the system. And power supply modules and fan modules are hot swappable, which reduces downtime.

Standard and enhanced images
DXS-3600 switches provide two different software images. Standard image (Standard Image) includes extensive capabilities of Level 2: VLAN, multicasting, quality of service (QoS), security, data center and static routing. Advanced image (Enhanced Image) offers comprehensive routing IPv4/v6, including RIP, VRRP, OSPF, BGP, and multicasting level 3, such as IGMP, MLD, PIM-DM, SM, SDM, SSM and DVMRP.

Advanced image also supports L2/L3 MPLS VPN, which allows you to set the series switches DXS-3600 as the main router's network, or the network edge router MPLS.

Function of the data center
Data Center Bridging (DCB) is the mandatory installation of extensions to Ethernet networking in the data center. DXS-3600 switches support a number of major components of DCB, such as IEEE 802.1Qbb, IEEE 802.1Qaz and IEEE 802.1Qau. IEEE 802.1Qbb (flow control is based on priorities) provides flow control to compensate for the loss of data during network congestion. IEEE 802.1Qaz (enhanced transmission selection) controls the bandwidth allocation among different traffic classes. IEEE 802.1Qau (Congestion Notification) provides congestion control for the flow of data within the network domain in order to prevent overloading. DXS-3600 switches also support Layer without buffering packets, which reduces the time delay in the transmission of data on the network.

Energy-saving
DXS-3600 switches allow users to adjust the air flow using various settings power supply modules and fans. Opportunity to choose the direction of ventilation from back to front or vice versa for maximum air conditioning for more efficient cooling of all the systems that are mounted in a rack in the data center using switches. The switches also feature built-in smart fans, internal temperature sensors that control temperature changes and react accordingly to the use of different fan speeds for different temperatures. At low temperatures, the fans will run more slowly, reducing the energy consumption of the switch and reduce the noise level.
מאפיינים כללים
Key Features
• Interface: 8 fixed 10 Gigabit Ethernet ports with one expansion module
• The console port RJ-45 to control out-of-band
• Control Port 10/100/1000 Base-T with RJ-45 connector for remote control of out-of-band
• 1 slot for SD-cards

Performance
• Switch fabric: 480 Gbit / s
• Max. packet rate: 357.14 Mpps
• Buffer size packages: 9 MB
• Table of MAC-addresses: 128K

Stacking
• Virtual Stacking / 32 devices in steke2
- Supports D-Link Single IP Management

Function of L2
• MAC-address table
- 128K records
• Flow Control
- 802.3x Flow Control for full duplex
- Method of Back Pressure for half duplex
- HOL Blocking Prevention
• Spanning Tree
- 802.1D STP
- 802.1w RSTP
- 802.1s MSTP
- Root Restriction
• The Loopback Diagnostics2
• 802.1AX Link Aggregation
- Max. 16 groups per device, 12 ports per
• ERPS2 (Ethernet Ring Protection Switching)
• Port Mirroring
- One-to-One, Many-to-One
- Supports Mirroring for Tx / Rx / Both
- Up to 4 groups
• Flow Mirroring
- One-to-One, Many-to-One
- Rx
- Up to 4 groups
• Jumbo-size frames
- Up to 12,000 bytes

Multicast Layer 2
• IGMP Snooping
- IGMP v1/v2/v3 Snooping
- Support for 4K IGMP groups
- Supports up to 1K static multicast groups
- IGMP on VLAN
• multicast filtering
- Redirect all groups
- Redirect all unregistered groups
- Filter all unregistered groups
• MLD Snooping2
- MLD v1/v2 Snooping
- Supports up to 4K groups
- MLD Snooping Fast Leave-based hosts

VLAN
• 802.1Q
• 802.1v
• The Double VLAN (Q-in-Q)
- Q-in-Q port-based
- Selective Q-in-Q
• VLAN-based port
• VLAN-based MAC-addresses
• VLAN-based subnets
• Private VLAN2
• Group VLAN
- Max. 4K static VLAN groups
- Max. 4094 VIDs
• GVRP
- Up to 4K dynamic VLAN groups

QoS (Quality of Service)
• 802.1p
• 8 queues per port
• Queue management
- Strict
- Weighted Round Robin (WRR)
- Strict + WRR
- Round Robin (RR)
- Weighted Elastic Round Robin (WERR)
• CoS-based
- 802.1p Priority Queues
- DSCP
- IP-address
- MAC-address
- VLAN
- IPv6-Class Traffic
- IPv6 flow label
- TCP / UDP port
• Bandwidth Management
- Based on the port (incoming / outgoing / min. Step up to 8 kbit / s)
- On the basis of the flow (incoming / outgoing / min. Step up to 8 kbit / s)
- The output queue (minimum step to 8 kbit / s)
• Three Color Marker
- TrTCM
- SrTCM
• Congestion Control
- WRED
• Compatible with the flow of the action:
- Tagging 802.1p priority
- Tagging TOS / DSCP
- Flow control
- Committed Information Rate (CIR)

Level functions L3 (for version SI)
• ARP
- 512 Static ARP
- Gratuitous ARP2
• IP-interface
- Supports up to 256 interfaces
• Loopback Interface 2

Layer 3 routing (for version SI)
• Routing by default
• Static Routing
- Max. up to 1K entries for IPv4
- Max. up to 512 entries for IPv62
- Support the distribution routes
- Support for the secondary route
- Support for equal / weighted cost multipath routing

Access Control Lists (ACL)
• Max. ACL entries:
- Up to 1,792 members of the access rules
- Up to 1K outgoing access rules
- Up to 1K VLAN rules
• ACL based on time
• ACL based on:
- 802.1p priority
- VLAN
- MAC-address
- Ether type
- IP-address
- DSCP
- The type of protocol
- Non TCP / UDP port
- IPv6 Traffic Class
- IPv6 flow label

Safety
• Port Security
- Up to 12K MAC-addresses per port / system
• Control of broadcast / много-адресных/одноадресных storms
• D-Link Safeguard Engine2
• DHCP Server Screening2
• The IP-MAC-Port Binding2
- Checking the ARP-Packet
- Check the IP-packet
- DHCP Snooping
• Prevent attacks ARP Spoofing2
- Max. 64 records
• Traffic Segmentation
• SSL2
- Support v1/v2/v3
- Support for access IPv4/v6
• SSH
• Prevention BPDU attacks
• Prevent DOS attacks
• AAA
• 802.1X
- Access control based on the port
- Access control based on host
- Dynamic VLAN Assignment
- Identity-driven Policy (VLAN / ACL / QoS) Assignment
• Control access to the web-based interface (WAC) 2
• Access control based on MAC-address (MAC) 2
• Guest VLAN

Standard MIB and RFC
• RFC1213 MIB II
• RFC1907 SNMP v2 MIB
• RFC5519 IGMP v3 MIB
• RFC1724 RIP v2 MIB
• RFC2021 RMONv2 MIB
• RFC1643, RFC2358, RFC2665 Ether-like MIB
• RFC2668 802.3 MAU MIB
• RFC2674 802.1p MIB
• RFC2618 RADIUS Authentication Client MIB
• RFC2096 IP Forwarding Table MIB
• RFC2932 IPv4 Multicast Routing MIB
• RFC2934 PIM MIB for IPv4
• RFC2620 RADIUS Accounting Client MIB
• RFC2925 Trace Out MIB
• RFC2925 Ping MIB
• RFC1850 OSPF MIB
• Private MIB
• RFC1112, RFC2236, RFC3376, RFC4541
• IGMP Snooping
• RFC4363 802.1v
• RFC2338 VRRP
• RFC1058, RFC1388, RFC1723, RFC2453, RFC2080 RIP
• RFC1370, RFC1765, RFC2328, RFC2740, RFC3101 makes RFC1587 obsolete, RFC2328 makes RFC1583, RFC2178 OSPF v2, v3
• RFC1771, RFC1997, RFC2439, RFC2796, RFC2842, RFC2918 BGP
• RFC3973 PIM-DM
• RFC5059 PIM-SM
• RFC3569, RFC4601, RFC4608, RFC4607, RFC4604 PIM SSM
• RFC3376 IGMP
• RFC2475 Priority Queue Mapping
• RFC2475, RFC2598 Class of Service (CoS)
• RFC2597, RFC2598 QoS Flow Actions
• RFC2697, RFC2698 Three Color Marker
• RFC2093, RFC2904, RFC2095, RFC2906
• AAA
• RFC1321, RFC2144, RFC2313, RFC2420, RFC2841, RFC3394 Encryption
• RFC2289 One-Time
• RFC3580 802.1X
• RFC2866 RADIUS Accounting
• RFC2138, RFC2139, RFC2865, RFC2618 RADIUS Author. for Management Access
• RFC1492 TACACS + Auth. for Management Access
• RFC2068, RFC2616 Web-based GUI
• RFC854 Telnet Server
• RFC783, RFC1350 TFTP Client
• RFC1157, RFC1901, RFC1908, RFC2570, RFC2574, RFC2575, RFC3411-17 SNMP
• RFC3164 System Log
• RFC2819 RMON v1
• RFC951, RFC1542, RFC2131, RFC3046 BootP / DHCP Client
• RFC1769 Time Setting
• RFC2131 DHCP Server
• RFC1191 MTU Setting
• RFC1065, RFC1066, RFC1155, RFC1156, RFC2578 MIB Structure
• RFC1215 MIB Traps Convention
• RFC4188 Bridge MIB
• RFC1157, RFC2571-2576, RFC3411-3415, RFC3418 SNMP MIB
• RFC1901-1908, RFC1442, FC2578 SNMP v2 MIB
• RFC2737 Entity MIB
• RFC768 UDP
• RFC791 IP
• RFC792 ICMP
• RFC793 TCP
• RFC826 ARP
• RFC1338, RFC1519 CIDR
• RFC2716, RFC3748 EAP
• RFC2571, RFC2572, RFC2573, RFC2574 SNMP

Management
• Management of web-based interface
• Command Line Interface CLI
• Telnet Server
• TFTP Client
• FTP Client
• Monitoring
• SNMP
- Support v1/v2/v3
• SNMP Trap
• System Log
• DHCP - client
• DHCP-server
• DHCP Relay
• Support for multiple versions of the software
• Support for multiple versions of configurations
• Flash File System
• DNS Resolver
• CPU Monitoring
• MTU Setting
• Traceroute
• LLDP
• DNS Relay
• SMTP2
• Auto DHCP2
• SNTP
• RCP2
• RMONv1
• RMONv2
• A trusted host (Trusted Host) 2
• Password Encryption
• Debug (Debug Command)

The Advanced Software (EI)
Layer 3
• VRRP
• IPv6 Tunneling2
- Static
- ISATAP
- GRE
- 6to4

Layer 3 routing
• Up to 16K entries routes IPv4/IPv6
- Max. 16K IPv4 records
- Max. 8K IPv6 records
• Supports 8K L3 shared items sent to IPv4/IPv6
- Max. 8K IPv4 records
- Max. 4K IPv6 records
• RIP
- RIP v1/v2
- RIPng2
• OSPF
- OSPF v2
- OSPF v32
- OSPF Passive Interface
- Stub / NSSA Area
- OSPF Equal Cost Route
• BGPv4
• Re-route
• IP Directed Broadcast
• Policy-based routing

Multicast Layer 3
• The size of the multicast table: 2K
• IGMP v1, v2, v3
• PIM-SM
• PIM-DM
• PIM-Sparse-Dense Mode
• PIM-SSM
• DVMRP v3
• MLD v1/v2

MPLS
• LDP
• MPLS LSP trigger filtering
• MPLS label-forwarding
• MPLS QoS
• MPLS ping and traceroute
• L2 protocol tunneling through PW
• VPWS
• VPLS
• PW Redundancy

L3 VPN2
• MPLS / BGP L3 VPN
• VRF-Lite
• MP-BGP
• VRF aware application