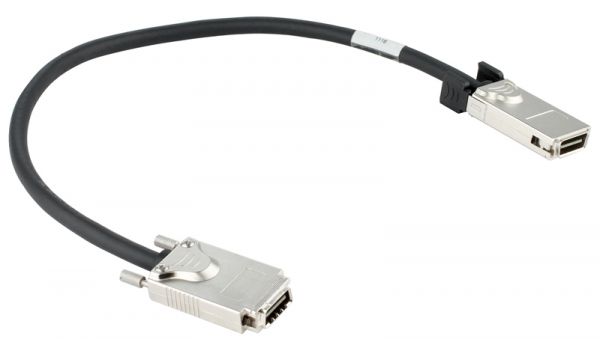 DEM-CB50ICX
כבל פסיבי 10G CX4 לחיבור ישיר באורך 50 ס"מ
היכן לקנות
תאור
Twinax 10G InfiniBand cables are designed to connect with each other Ethernet-enabled devices transfer rate 10 Gbit/s1, providing a wide bandwidth. This series includes five models of cables: DEM-CB50, DEM-CB100, DEM-CB300, DEM-CB50ICX and DEM-CB300CX. Twinax 10G InfiniBand cables are an ideal cost-effective solution to connect the D-Link switches and other devices installed in the same or adjacent racks, providing a wide bandwidth.

The ideal solution for high-performance systems
Twinax cables 10G InfiniBand D-Link supports data rates up to 10 Gbit / s at a distance of 3 m standard 10GBASE-CX4 provides data on the four pairs of copper twinax cable, resulting in a low-latency data transmission and supports Quality of Service (QoS), and resiliency (failover) InfiniBand. Thus, the data cables are the ideal solution, providing high bandwidth over short distances.

10GBASE-CX4 connectors
The cables used in this series InifiniBand 4X connectors with screw fasteners and clips for attachment. Model DEM-CB50, DEM-CB100 and DEM-CB300 fitted on both sides of the connector with screw fasteners and can be used as a physical stacking cables or cables to connect to the managed stackable Gigabit Ethernet Layer 2 Series D-Link DGS-3120 with higher-level devices . Model DEM-CB50ICX equipped on one side with a screw connector for connection to a switch DGS-3120 series, on the other - RCA connectors for attachment to connect to a media converter DMC-805X. Model DEM-CB300CX fitted on both sides of RCA connectors for mounting and can be used as a cable for the physical stacking switches, Gigabit Ethernet Layer 2 + DGS-3400 series and associated modules DEM-410CX.
מאפיינים כללים
Type of connectors
• One screw fastening / One fixture with latch

Cable length
• 50 cm

AWG wire size
• 28 AWG

Ability to connect
• Cable to connect the Series Switch DGS-3120 media converter with DMC-805X (recommended)