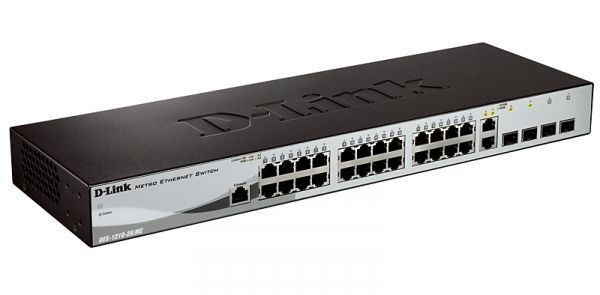 DES-1210-28/ME_RFB
Metro Ethernet Switch with 24 10/100 Base-TX+ + 2 100/1000 SFP + 2 Combo 10/100/1000 Base-T/100/1000 SFP
היכן לקנות
תאור
The DES-1210/ME Series Metro Ethernet Switches are a family of Ethernet switches ideal for Metro Ethernet applications. These Metro Ethernet Switches provide 8/24 cooper connections on fast Ethernet with the beneficial design of 2/4 Gigabit/SFP combo ports, which can provide up 4 Gbps uplink bandwidth, or dual Ethernet ring topology support. Surge protection up to 6 kV ensures resilience against unexpected electrical spikes, while a full suite of security and authentication features keeps your network safe from internal and external threats. 
Security & Authentication
DES-1210/ME Series Metro Ethernet Switches support 802.1X port-based/host-based access control, guest VLAN, and RADIUS/TACACS+ authentication for strict access control over the network. The IP-MAC-Port Binding feature allows administrators to bind a source IP address with an associated MAC and also to define the port number to enhance user access control. The built-in D-Link Safeguard Engine™ identifies and prioritizes "CPU interested" packets to prevent malicious traffic from interrupting normal network flows and protects switch operation. In addition, the Access Control List (ACL) feature enhances network security and switch performance.
Resilience/Performance Enhancement
For mission critical environments, the DES-1210/ME Series Metro Ethernet Switches support 802.1D-2004 edition, 802.1w and 802.1s Spanning Tree Protocols (STP). STP allows the switch to be configured with a redundant backup bridge path, so transmission and reception of packets can be guaranteed in the event of any switch fail-over on the network. The switches also support 802.3ad link aggregation, which enables multiple ports to be grouped in parallel to form a single port, increasing bandwidth and redundancy for higher availability. These models feature 802.1p Quality of Service (QoS), allowing for real-time traffic classification into 8 priority levels mapped to 4 queues. Packet classification is based on TOS, DSCP, MAC, IPv4, VLAN ID, TCP/UDP port number, protocol type, or user-defined packet content for flexible configuration for specific multimedia applications such as VoIP or IPTV.
Traffic & Bandwidth Control
Integrated bandwidth control allows network administrators to define the throughput levels for each port to manage bandwidth. It also provides fine granularity to define the ingress/egress traffic limits down to 64 Kbps segments. The DES-1210/ME Series also supports broadcast storm control, which minimizes the chances of a virus attack within the network, and port mirroring helps administrators facilitate traffic diagnostics or track switch performance, and make changes if necessary. The DES-1210/ME Series provides IGMP Snooping to prune multicast traffic and to optimize network performance.
Multicast Applications
The DES-1210/ME Series Metro Ethernet Switches feature a full set of L2 multicast functions, including IGMP snooping, IGMP filtering, fast leave, and multicast traffic configuration for specific ports. With L2 Multicast support, the DES-1210/ME Series is ready and capable of handling growing IPTV applications. Host-based IGMP/MLD snooping allows for multiple multicast subscribers per physical interface, and ISM VLAN sends multicast streams in a multicast VLAN, saving bandwidth on the backbone network. ISM VLAN profiles allow users to bind/replace the predefined multicast registration information to subscriber ports quickly and easily.
Management Capabilities
A web-based GUI provides a user-friendly interface and easy management, and DHCP auto-configuration gives administrators enhanced management features, allowing them to save configuration presets to a TFTP server. Individual switches can then boot their IP addresses from the server and load the preset configuration. Support for Link Layer Discovery Protocol (LLDP) allows a network device to advertise its identity and capabilities on the local network, which helps businesses better manage their network topology. Also, each port on these switches supports a cable diagnostic feature that helps detect cable related problems such as length or cable functionality issues.
מאפיינים כללים
Revision
• B2
Size
• 19" inch standard rack-mount width
• 1U Height
Interfaces
• 24 10/100Base-TX ports
• 2 Combo 10/100/1000Base-T/100/1000 SFP ports
• 2 100/1000 SFP ports
• Console Port: RJ-45
Performance
• Switching Capacity: 12.8Gbps
• 64 Byte Packet Forwarding Rate: 9.5Mpps
• MAC Address Table: 8K Entries
• SDAM for CPU: 128 MB DDR2
• Packet Buffer Memory: 384 KB
• Flash memory: 16 MB
LEDs
• Power (per device)
• Console (per device)
• Link/Active/Speed (per port)
Software Features
L2 Features
• MAC Address Table: 8K
• Spanning Tree Protocols
- 802.1D STP
- 802.1w RSTP
- 802.1s MSTP
- BPDU Filtering
- Root Restriction
• Loopback Detection
• Link Aggregation
- Compliant with 802.3ad
- Supports max 8 groups, 8 ports per group
• Mirroring
- Support 1 Mirroring group
- Support One-to-One, Many-to-One,Flow-based (ACL) mirroring
• L2 Protocol Tunneling (L2PT)
L2 Multicasting
• IGMP Snooping
- IGMP v1/v2 snooping, v3 awareness
- Support 256 Groups
- VLAN/host-based IGMP snooping Fast Leave
- Report Suppression
• IGMP Proxy
• MLD Snooping
- MLD v1, MLD v2 awareness
- Support 256 groups
VLAN
• 802.1Q Tagged VLAN
• VLAN Group
• Max. 4K VLAN
• Port-based VLAN
• GVRP
• Asymmetric VLAN
• Max. 256 dynamic VLAN
• VLAN Trunking
• Double VLAN (Q-in-Q)
- Port-based Q-in-Q
- Q-in-Q Selective
• VLAN Translation
• ISM VLAN
• MAC-based VLAN
• 802.1v Protocol VLAN
L3 Features
• IPv6 Neighbor Discovery (ND)
• ARP
QoS
• Bandwidth Control
- Port-based (Ingress/Egress, Min. Granularity 64 Kbps)
- Flow-based (Ingress/Egress, Min. Granularity 64 Kbps)
- Ingress/egress queue bandwidth control (Min. Granularity 64 Kbps)
• 4 Queues per Port
• Queue Handling
- Strict Priority
- Weighted Round Robin (WRR)
- Strict + WRR
• Supports Following Actions for Flows
- Remark 802.1p Priority Tag
- Differentiated Services Code Point (DSCP)
• CoS Based on:
- Switch port
- 802.1p Priority Queues
- VLAN ID
- MAC Address
- Ether type
- TOS
- DSCP
- Protocol Type
- TCP/UDP Port
Access Control List (ACL)
• Up to 512 ingress access rules
• ACL Based on
- Switch Port
- 802.1p Priority
- VLAN ID
- MAC Address
- Ether Type
- TOS
- IPv4/v6 Address
- DSCP
- Protocol Type
- TCP/UDP Port Number
- IPv6 Traffic Class
- Packet content
• Time-based ACL
• ACL statistics
• CPU interface filtering
AAA
• 802.1X
- Port-based Access Control
- Host-based Access Control
- Identity-driven policy assignment (VLAN, ACL, QoS)
• Guest VLAN
• RADIUS/TACACS+ Accounting
• 4 Level User Account
Security
• SSH v2
• SSL v3
• Port Security
• Up to 64 MAC addresses per port
• Broadcast/Multicast/Unicast Storm Control
• Traffic Segmentation
• IP-MAC-Port Binding (IMPB) (IPv4/IPv6)
- ARP Inspection
- ND Snooping
- IP Inspection (IPv4/IPv6)
- DHCP Snooping (IPv4/IPv6)
• D-Link Safeguard Engine
• DHCP Server Screening (IPv4/IPv6)
• RA Screening (IPv4/IPv6)
• DHCP client Filtering
• ARP Spoofing Prevention
• BPDU Attack Protection
• DoS attack Prevention
• TLS
OAM
• Cable Diagnostics
• 802.3ah Ethernet Link OAM
• 802.3ah D-Link Unidirectional Link Detection (DULD)
• DDM (Digital Diagnosics Monitoring)
Management
• Web-based GUI (IPv4/IPv6)
• Command Line Interface (CLI)
• Telnet Server/ Client (IPv4/IPv6)
• TFTP Client (IPv4/IPv6)
• Command Logging
• SNMP v1/v2c/v3
• SNMP Traps
• System Log
• RMON v1
• RMON v2
- Support ProbeConfig Group
• LLDP
• BootP/DHCP Client
• DHCP Auto-Configuration
• DHCP Relay (IPv4/IPv6)
- DHCP Relay Option 82
- DHCP Relay Option 12, 37, 38
• PPPoE Circuit-ID Tag Insertion
• CPU Monitoring
• Debug Command
• SNTP
• Password Recovery
• Password Encryption
• Backdoor Password
• Trusted Host
• Configuration file format by CLI syntax
• Dual Image
MIB
• RFC 1213 MIB II
• RFC 1493 Bridge MIB
• RFC 1907 SNMPv2 MIB
• RFC 1757, 2819 RMON MIB
• RFC 2021 RMONv2 MIB
• RFC 1398, 1643, 1650, 2358, 2665 Ether-like MIB
• RFC 2674, 4363 802.1p MIB
• RFC 2233, 2863 IF MIB
• RFC 2618 RADIUS Authentication Client MIB
• RFC 2620 RADIUS Accounting Client MIB
• RFC 2925 Ping & Traceroute MIB
• Private MIB
• D-Link Zone Defense MIB1
IETF Standards
• RFC 768 UDP
• RFC 791 IP
• RFC 792 ICMPv4
• RFC 2463, 4443 ICMPv6
• RFC 793 TCP
• RFC 826 ARP
• RFC 2474, 3260 Definition of the DS Field in the IPv4 and IPv6 Header
• RFC 1321, 2284, 2865, 3580, 3748 Extensible Authentication Protocol (EAP)
• RFC 2571, RFC 2572, RFC 2573, RFC 2574 SNMP
IPv6
• RFC 1981 Path MTU Discovery
• RFC 2460 IPv6
• RFC 2461, 4861 Neighbor Discovery
• RFC 2462, 4862 IPv6 Stateless Address Auto-configuration
• RFC 2464 IPv6 Neighbor over Ethernet and definition
• RFC 3513, 4291 IPv6 Addressing Architecture
• RFC 2893, 4213 IPv4/IPv6 dual stack function
• IPv6 Ready Logo Phase 2
Physical
Dimensions
• 440 x 140 x 44 mm
Power Input
• 100 to 240 V AC, 50/60 Hz
MTBF
• 424,757 hours
Heat Dissipation
• 54.25 BTU/hr
Maximum Power Consumption
• 15.5 W
Acoustics
• 0 dB
Ventilation
• Fanless
Surge Protection
• 6 kV surge protection on all Ethernet 10/100Base-TX ports
Operating Temperature
• -5 to 55 °C
Storage Temperature
• -40 to 70 °C
Operating Humidity
• 10% to 90% non-condensing
Safety Certifications
• CE, CE LVD, UL/cUL
EMI
• FCC Class A, CE Class A
Third-party Certification
• IPv6 Ready
הורדות
DES-1210-28/ME_RFB/B2 Metro Ethernet Switch with 24 10/100 Base-TX+ + 2 100/1000 SFP + 2 Combo 10/100/1000 Base-T/100/1000 SFP