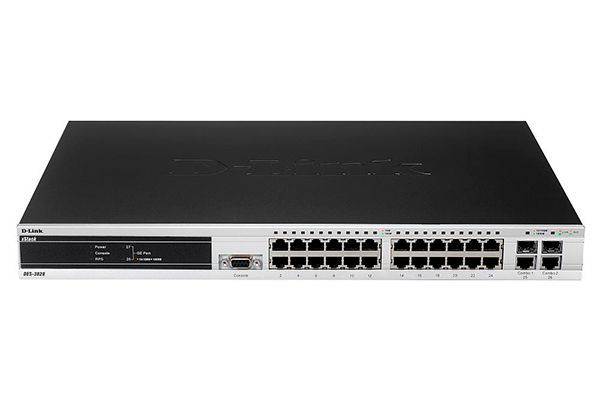 DES-3828_RFB
24 10/100Base-TX ports + 2 100/1000Base-T ports + 2 Combo 1000Base-T/SFP ports L3 Managed Switch
היכן לקנות
תאור
The DES-38xx series is a member of the D-Link xStack family of next generation switches that deliver performance, flexible expansion, robust security, multi-layer Quality of Service (QoS), Power Over Ethernet and redundant power option. The DES-38xx series forms a cost-effective Ethernet virtual stack for workgroup connection. It incorporates L3 packet routing and many functions typically found in a chassis-based solution. The DES-38xx series provides Single IP Management for seamless integration with a core Gigabit xStack attached to an optional high-speed 10Gigabit backbone.
L3 Virtual Stack 
Simple to deploy and easy to manage, the DES-38xx series comprises the departmental access-level devices that can be easily stacked and configured with any switches supporting D-Link's Single IP Management, including the D-Link xStack core switches, to form part of a multi-level network structured with backbone and centralized high-speed servers. Without any stacking cable, cable distance barrier and physical stacking method limitations, a DES-38xx stack can comprise of 32 units that are located anywhere on the same network domain, eliminating the possibility of any single point of failure. Ideal for deployment at the network edge, the DES-38xx blends L2 packet switching with dynamic L3 IP routing to relieve the network backbone and servers of any unnecessary traffic.
Comprehensive Security
The DES-38xx series provides a complete set of security features for connectivity and access control, which includes L2/3/4 and Packet Content Access Control Lists (ACL), storm control and IP-MAC-Port Binding with DHCP Snooping. Authentication mechanisms such as 802.1x Guest VLAN, Web-based Access Control (WAC) and MAC-based Access Control (MAC) provide extra flexibility for user identity control. The DES-38xx also provides central management for administration access via TACACS+ and RADIUS. In addition, built-in Safeguard Engine protects DES-38xx against abnormal traffic
from virus or worm scanning. Together with network application control, this security ensures that not only proper user access is served, but malicious traffic is also prevented from being spread across the network.
Enhanced Network Performance & Availability
The DES-38xx series provides extensive VLAN support including 4K VLAN entries, Q-in-Q, GARP/GVRP and 802.1v Protocol VLAN to enhance network security and performance. Bandwidth control allows users to set traffic limit for each port or flow to control the traffic volume from the edge of the network. The DES-3828, DES-3828P and DES-3852 support redundant power option to maximize network uptime. Other features include 802.3ad Link Aggregation, 802.1d Spanning Tree, 802.1w
Rapid Spanning Tree and 802.1s Multiple Spanning Tree and Loopback detection to increase network reliability and availability of a Virtual Stacking network structure.
Multi-layer Quality of Service (QoS)
The DES-38xx series implements a robust set of multilayer (L2, L3, L4) QoS/CoS features to ensure that critical network services like VoIP, ERP, Intranet and video conference are served with proper priority. 8 priority queues for 802.1p/TOS/DiffServ are supported, with classification and marking based on MAC SA/DA, IPv4/v6 SA/DA, DSCP, and/or TCP/UDP port numbers. With IP Multicast support, the DES-38xx is also ideal for high-bandwidth applications, such as MPEG video, delivering traffic to multiple receivers without adding any additional traffic burden to the network.
מאפיינים כללים
Number of Ports
• 24 x 10/100Base-TX ports
• 2 x 10/100/1000Base-T ports
• 2 x Combo 10/100/1000Base/SFP ports
Console Port
• RS-232 console port
Performance
• Switching Capacity: 12.8 Gbps
• Packet Forwarding Rate: 9.5 Mpps
• MAC Address Table: 16K entries
• SDRAM for CPU: 64 MB
• Packet Buffer: 32 MB
• Jumbo Frame Size: 9 KB
Diagnostic LEDs
• Power (Per Device)
• Console (Per Device)
• RPS (Per Device)
• Link/Activity (Per Port)
• 10 Mbps or 100 Mbps Speed (Per Ethernet Port)
• 10/100 Mbps or 1000 Mbps Speed (Per Gigabit Port)
Software Features
L2 Features
• IGMP Snooping v1, v2 (max. 256 groups)
• 802.1D Spanning Tree
• 802.1w Rapid Spanning Tree
• 802.1s Multiple Spanning Tree
• STP Loopback Detection
• 802.3ad Link Aggregation: 8 ports per group / 32 groups
• Port Mirroring (One-to-One / Many-to-One / One-VLAN-to-One)
• Per Flow mirroring
VLAN
• 802.1Q
• VLAN static groups – 4К
• VLAN dynamic groups – 255
• GVRP
• Double VLAN
L3 Features
• 128 Static Routing Entries
• RIP v1/v2
• OSPF
• Route preference
• OSPF Equal Cost Route
• 2K Hardware Routing Entries
• 4K Hardware L3 Forwarding Entries
• VRRP
• IP Interfaces:64
• IP per VLAN: 10
• ARP Proxy
Multicast
• IGMP v1, v2, v3: 256 multicast groups
• Multicast Duplication
• DVMRP v3
• PIM DM
• PIM SM
• ISM VLAN
• IP address Multicast limitation for each port
QoS (Quality of Service)
• Bandwidth Control: Min. Granularity for each port 64 Kbps
• Broadcast Storm Control: Min. Granularity for each port 1 pps
• 802.1p Class of Service (CoS)
• 8 queues 802.1p
• CoS based on
- Switch port
- Source and destination MAC address
- TOS
- DSCP
- Source and destination IP address
- TCP/UDP port number
• WRED (Weighted Random Early Detection)
ACL (Access Control List)
• 800 Access Rules per device based on:
- Switch port
- MAC Address
- 802.1p priority
- VLAN
- DSCP
- IP address
- Protocol type
- TCP/UDP port number
- TCP/UDP payload (Packet content)
Security
• Broadcast Storm Control
• RADIUS and TACACS + authentication for access management
• SSH v.1.5/ v.2
• SSL v.2
• Port security (up to 16K MAC addresses per port)
• Port-based 802.1x Access Management
• MAC-based 802.1x Access Management (up to 16K MAC addresses per port)
• 802.1X Guest VLAN
• WAC (Web-based Access Control)
• MAC (MAC-based Access Control)
• Traffic Segmentation
• IP-MAC-Port Binding (ACL Mode and ARP Mode): Support 500 Address Binding Entries per Device
• Three-level user access (Administrator, Operator and User)
• RADIUS accounting
• D-Link Safeguard Engine
Management
• Single IP Management v1.6
• Web-Based GUI
• Command Line Interface (CLI)
• Telnet Server/Client
• TFTP Client
• SNMP v.1, v.2c, v.3
• SNMP Trap on MAC Notification
• RMON v.1: 4 groups (Statistics, History, Alarms, Events)
• RMON v2 (Probeconfig Group)
• Bootp/DHCP Client
• DHCP Relay Option 82
• SYSLOG
• Dual Image
• Dual configuration
MIB
• RFC 1213 MIB-II
• RFC 1493 Bridge MIB
• RFC 1907 SNMP v2 MIB
• RFC 2819 RMON MIB
• RFC 2665 Ether-like MIB
• RFC 2674 802.1p MIB
• RFC 2863 IF MIB
• RFC 2618 RADIUS Authentication Client MIB
• RFC 2620 RADIUS Accounting Client MIB
• RFC 1724 RIP v2 MIB
• RFC 1850 OSPF v2 MIB
• RFC 2096 IP Forwarding Table MIB (CIDR)
• RFC 2787 VRRP MIB
• RFC 2932 IPv4 Multicast Routing MIB
• RFC 2934 PIM MIB for IPv4
• Private MIB
Additional Redundant Power Supply
• DPS-200
Physical Parameters
Weight
• 4.24 kg
Dimensions
• 441 x 310 x 44 mm
Power Input
• 100 to 240 V AC, 50/60 Hz
MTBF
• 123,027 hours
Heat Dissipation
• 81.72 BTU/hr
Maximum Power Consumption
• 24 W
Acoustics
• < 51 dB
Operating Temperature
• 0 to 40 °C
Storage Temperature
• -40 to 70 °C
Operating Humidity
• 5% to 95% RH non-condensing
Safety
• CSA International, CB
EMI
• FCC Class A, CE, C-Tick
הורדות
DES-3828_RFB/A2   24 10/100Base-TX ports + 2 100/1000Base-T ports + 2 Combo 1000Base-T/SFP ports L3 Managed Switch