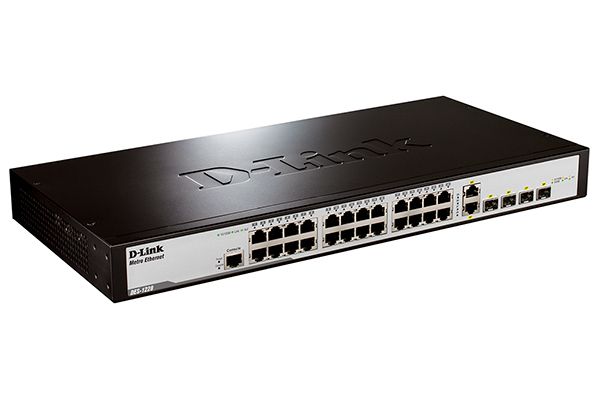 DES-1228/ME
24-Port 10/100Mbps + 2 1000BASE-T + 2 Combo 1000BASE-T/SFP L2 MetroEthernet Switch
Where to buy
Description
The DES-1228/ME is a managed layer 2 Fast Ethernet switch, designed as a premium device for entry-level network management devices. These switches offer a rich set of security functions and an effective network setup at an affordable cost. Outstanding features include four Gigabit uplink combo ports, high port densities, granular bandwidth control and extensive network management functions. This switch delivers maximum results while remaining a full-featured and cost-effective solution for businesses.
High Port Density & SFP Ports
The DES-1228/ME provides 24 Fast Ethernet ports, and is equipped with four Gigabit Ethernet ports including two combo SFP ports capable of both Gigabit and 100BASE-FX fiber connections for user-specific applications.
Security & Availability
The DES-1228/ME supports 802.1X Port-based/Hostbased Access Control, Guest VLAN, and RADIUS and TACAS+ for strict access control over the network. The IP-MAC-Port Binding feature allows administrators to bind a source IP address with an associated MAC and also to define the port number to enhance user access control. The built-in D-Link Safeguard Engine identifies and prioritizes "CPU interested" packets to prevent malicious traffic from interrupting normal network flows and protects switch operation. In addition, the Access Control List (ACL) feature enhances the network security and switch performance.
Resilience/Performance Enhancement
For mission critical environments the DES-1228/ME supports 802.1D-2004 edition, 802.1w and 802.1s Spanning Tree Protocols (STP). STP allows you tho configure the switch with a redundant backup bridge path, so transmission and reception of packets can be guaranteed in event of any fail-over switch on the network. The switch also supports 802.3ad Link Aggregation, which enable you to group multiple ports in parallel to form a single port, increasing bandwidth and redundancy for higher availability. The DES-1228/ME supports 802.1p Quality of Service (QoS). This standard is a mechanism that allows realtime traffic classification into 8 priority levels mapped to 4 queues. Packet classification is based on TOS, DSCP, MAC, IPv4, VLAN ID, TCP/UDP port number, protocol type and user defined packet content, which enables flexible configuration especially for real-time streaming multimedia applications such as voice over IP.
Traffic & Bandwidth Control
The bandwidth control feature allows network administrators to define the throughput levels for each port to manage bandwidth. It also provides fine granularity to define the ingress/egress traffic limits down to 64Kbps segments. The switches also support the Broadcast Storm Control feature, which minimizes the chances of a virus attack within the network. Port Mirroring helps administrators facilitate traffic diagnostics or track switch performance and alter if it is necessary. The DES-1228/ME provides IGMP Snooping to prune multicast traffic and to optimize network performance.
Management Capabilities
The DES-1228/ME supports standard management protocols such as SNMP, RMON, Telnet, SSH security authentication and DHCP Relay Option 82. A web-based GUI is also supported for user-friendly interface and easy management. DHCP autoconfiguration, an enhanced management feature allows administrators to pre-set configuration and save them in a TFTP server. Individual switches can then boot their IP addresses from the server and load in the pre-set configuration. The Link Layer Discovery Protocol (LLDP) allows a network device to advertise its identity and capabilities on the local network, which help businesses, better manage their network topology. Each port on the switches also support Cable Diagnostic feature that helps detect cable related problems such as length or cable functionality.
General features
Size
19-inch Standard Rack-Mount Width,1U Height

Interface
• 24 10/100BASE-TX
• 2 10/100/1000BASE-T
• 2 Combo 10/100/1000BASE/SFP

Console Port
RS-232 Console Port

Performance
• Switching Capacity: 12.8 Gbps
• 64-Byte Packet Forwarding Rate: 9.5 Mpps
• MAC Address Table Size: 8K
• SDRAM for CPU: 64 MB
• Packet Buffer: 512 KB
• Flash Memory: 8 MB
• Jumbo Frame (2048 Bytes Tagged, 2044 Bytes Un-Tagged)

Diagnostic
• LEDs
• Power (Per Device)
• Console (Per Device)
• Link/Activity (Per Port)
• Speed Indicator(Per Port)

Software Features
L2 Features
• MAC Address Table: 8k
• Jumbo Frames support up to 2048 bytes
• IGMP Snooping:
- IGMP v1/v2 Snooping
- Supports 64 groups
- Port-based IGMP Snooping Fast Leave
• Spanning Tree:
- 802.1D-2004 Edition STP
- 802.1w RSTP
- 802.1s MSTP
- Root Restriction
• Loopback Detection (LBD)
• 802.3ad Link Aggregation:
- Max. 6 groups per device, 8 ports per group
• Port Mirroring:
- Supports One-to-One, Many-to-One, Flow-based Mirroring
• Flow Control:
- 802.3x Flow Control
- HoL Blocking Prevention

VLAN
• 802.1Q Tagged VLAN
• VLAN Group:
- Max. 4K VLAN
• Port-based VLAN
• GVRP:
- Max. 255 Dynamic VLAN
• Asymmetric VLAN
• ISM VLAN

Quality of Service (QoS)
• Bandwidth Control:
- Port-based (Ingress/Egress, min. granularity 64kbps)
- Flow-based (Ingress, min. granularity 64kbps)
• 4 queues per port
• 802.1p Quality of Service
• Queue Handling:
- Strict
- Weighted Round Robin (WRR)
• CoS based on:
- Switch Port
- VLAN ID
- 802.1p Priority Queues
- MAC Address
- IP Address
- DSCP
- Protocol Type
- TCP/UDP Port

Access Control List (ACL)
• Up to 256 Access Rules
• ACL based on:
- 802.1p Priority
- VLAN ID
- MAC Address
- Ether Type
- IP Address
- DSCP
- Protocol Type
- TCP/UDP Port Number
• CPU Interface Filtering

Security
• SSH v2
• Port Security up to 16 MAC address per port
• Broadcast/Multicast/Unicast Storm Control
• Traffic Segmentation
• IP-MAC-Port Binding (IMPB):
- ARP Packet Inspection
- IP Packet Inspection
- Supports 500 Address Binding Entries per device
• D-Link Safeguard Engine
• Microsoft® NAP
- Supports 802.1X NAP
- Supports DHCP NAP

AAA
• 802.1X:
- Port-based Access Control
- Host-based Access Control
- Dynamic VLAN Assignment
• Guest VLAN
• RADIUS Accounting
• RADIUS and TACACS + authentication for switch access

Management
• Web-Based GUI
• Command Line Interface (CLI)
• Telnet Server/Client
• TFTP Client
• XModem
• ZModem
• SNMP v1/v2c/v3
• SNMP Traps
• RMON v1:
- Supports 1,2,3,9 groups
• RMON v2:
- Supports ProbeConfig group
• BootP/DHCP Client
• DHCP Auto-Configuration
• DHCP Relay
• DHCP Relay Option 82
• System Log
• Dual Image
• CPU Monitoring
• SNTP
• LLDP
• Debug Command
• Cable Diagnostics

MIB/IETF Standard
• RFC2866 RADIUS Accounting
• RFC2138 RFC2139 RADIUS Auth. for Management Access
• RFC1492 TACACS + Auth for Management Access
• RFC2068 HTTP
• RFC768 UDP
• FC783 TFTP
• RFC791 IP
• RFC792 ICMP
• RFC793 TCP
• RFC826 ARP
• RFC854 Telnet
• RFC783 TFTP
• RFC1157, 1901, 1908, 2570, 2575 SNMP
• RFC2819 RMON v1
• RFC951, 1542 BootP/DHCP client
• RFC3046 DHCP relay
• RFC3164, 3195 System Log
• RFC1213 MIB II
• RFC1493 Bridge
• RFC1907 SNMP v2 MIB
• RFC1757, 2819 RMON
• RFC2021 RMON v2
• RFC1643, 2358, 2665 Ether-like MIB
• RFC2674 802.1p
• RFC2233, 2863 IF MIB
• RFC2618 RADIUS Authentication Client
• RFC2620 RADIUS Accounting Client MIB
• RFC2925 Ping & TRACEROUTE
• Private MIB
Order info
DES-1228/ME 24-Port 10/100Mbps + 2 1000BASE-T + 2 Combo 1000BASE-T/SFP L2 MetroEthernet Switch