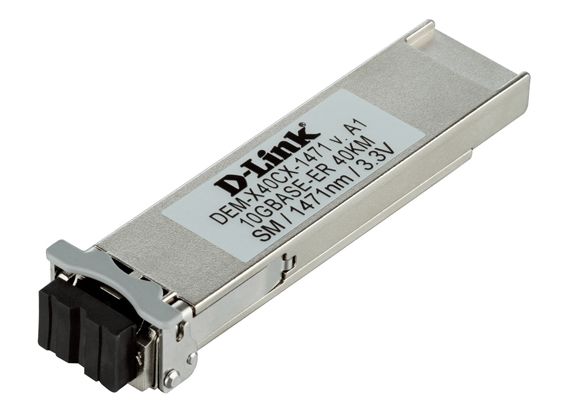 DEM-X40CX-1471
Project
10G XFP CWDM transceiver for single-mode fiber optic cable (wavelength 1471nm, up to 40 km)
Where to buy
Description
D-Link's 10G CWDM SFP+/XFP Module Series consists of hot-swappable transceivers that plug into SFP+ or XFP slots on switches and support 10G Ethernet. These CWDM transceivers can be used with MUX/DEMUX equipment to combine the Ethernet signals of multiple switch ports into a single fiber cable, drastically cutting the infrastructure costs involved with long distance fiber communication. Available in multiple models to support different wavelengths, these transceivers are ideal for ISP and campus applications.
10G Ethernet speeds
The transceivers all support 10G Ethernet, which results in very fast data transmissions of up to 10Gbit/s. This is 10 times faster than Gigabit Ethernet, and enables the switch to handle faster data transmissions and higher bandwidth capacities, making it ideal for business needs.
Hot Pluggable
All D-Link transceivers are hot-pluggable, which allows them to be connected while the system is powered on without causing any problems. This permits modules to be added or removed without interrupting the network.
General features
Standard
• Standard compliance: IEEE-802.3ae, 10GBASE-ER
• Tranceiver type: XFP
• Fibre Channel FC-PI Standard: 1200-SM-LL-L
• Fiber Media Support: Single-Mode
• Distance capacity: 40km
Features
• Hot Pluggable
• MSA Compliant
• RoHS Compliant
Speed
10Gbps
Interface
• Connector: Duplex LC Connector
• Single/Bi-Directional: Single Direction
• Wavelength: 1471nm
• Output optical power (TX optical power):
Max.: 3dBm
Min.: -3dBm
• Input optical power (RX optical power):
Max.: 0.5dBm
Min.: -14.1dBm
• Sensitivity: -14.1dBm
• Cable type: Single-mode 9/125 um fiber
Order info
DEM-X40CX-1471 10G XFP CWDM transceiver for single-mode fiber optic cable (wavelength 1471nm, up to 40 km)