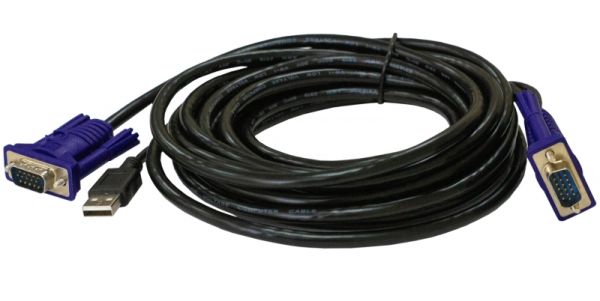 Description
The DKVM-CU3 3 m KVM cable allows you to connect your PC to the D-Link DKVM-4U/C KVM switch. The cable has one USB Type-A connector for connecting to the USB Type-A port on your PC and two 15-pin HDB connectors for connecting to the VGA port on your PC and on the KVM switch.
The DKVM-CU3 combines several cables in one assembly, thus allowing you to save space on your table.
General features
Length
• 3 m
Keyboard/Mouse
• One USB Type-A connector
Video
• Two 15-pin HDB connectors (VGA)
Advanced features
• Several cables in one assembly
NOTE! The DKVM-CU3 KVM cable of hardware version B is only compatible with the DKVM-4U KVM switch of hardware version C.
Order info
DKVM-CU3 3 m KVM cable with VGA and USB