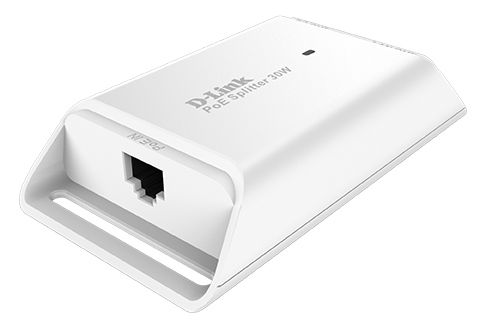 Description
The IEEE 802.3at/af compliant DPE-301GS PoE Splitter provides Gigabit Ethernet and high wattage electrical power to connect legacy devices that do not support PoE by separating power and data from a PoE source. This effectively turns any device into a PoE device, giving you the ability to mount your non-PoE device virtually anywhere in a building since it doesn't require a power outlet.
Powers More Devices
Remotely connect a wider variety of more power demanding devices with the DPE-301GS. The DPE-301GS outputs up to 5 V DC, 9 V DC, or 12 V DC, making it better able to cope with the demands of surveillance cameras, 802.11ac networking devices, security equipment, and even consumer electronics.
Greater Flexibility
Network administrators can use the DPE-301GS to deploy wireless LAN devices and cameras in hard-to-reach places such as entryways, rooftops, ceilings, or any other place not usually in close proximity to a power outlet. This means that administrators can position network devices where they will be most effective, rather than having to settle for less desirable locations due to the limited availability of power, use unsightly extension cables, and avoid the hassle and expense of installing new electrical wiring.
Reliable Connectivity
The DPE-301GS can be powered using an IEEE 802.3af/at power supply that has overcurrent protection. Its high efficiency DC-DC converter provides an output short-circuit protection to avoid damaging the connected device.
General features
PoE In
•
Supports half/full-duplex operation
Lan Out
•
Supports half/full-duplex operation
LED Indicator
Physical parameters
Dimensions (L x W x H)
Weight
Power Output
Included Power Adapter Cables
•
5.5 mm to 3.8 mm male to male
•
5.5 mm to 5.5 mm male to male
Temperature
Humidity
•
Operating: 5% to 95% non-condensing
•
Storage: 5% to 95% non-condensing
Certifications
Order info
DPE-301GS 30W PoE Splitter