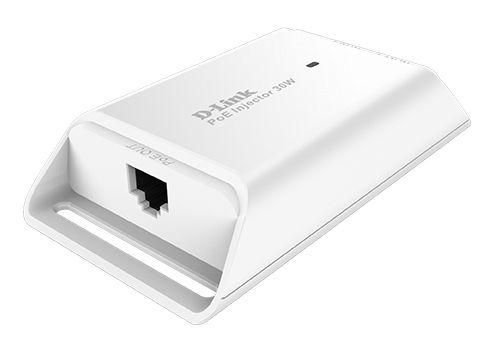 Description
The IEEE 802.3at (PoE+)/802.3af (PoE) DPE-301GI 1 Port Gigabit PoE Injector is designed to supply data and up to 30 watts of power to Power over Ethernet Plus devices such as PTZ IP cameras or 802.11ac wireless access points. The DPE-301GI gives you the ability to mount your PoE device anywhere in a building, such as on ceilings or near entryways, by eliminating the need for a nearby power outlet and attached power supply. D-Link's DPE-301GI combines electrical power with a Gigabit network connection to produce a Gigabit Power over Ethernet signal for transmission over a single Ethernet cable.
Powers More Devices
The DPE-301GI, offers a ready-to-use PoE solution by offering up to 30 watts of output power. It is compliant with the IEEE 802.3at/af standard, and is designed to be deployed in situations where high bandwidth is demanded. Adding more power-hungry PoE devices or access points is now easier than ever.
Cost Efficient Flexibility
Deploying the DPE-301GI saves both installation costs and equipment costs, allowing a single RJ-45 Ethernet cable to carry both power and data to each device. This PoE solution frees network devices from the restrictions of power availability by removing the need for a local power source. This reduces cable clutter, eliminates the need for dedicated electrical outlets in inconvenient places, and cuts down the time required for deployment.
Reliable Connectivity
The DPE-301GI 1 Port Gigabit PoE Injector intelligently communicates with a Powered Device (PD) about the maximum current that is available. This protection feature keeps the device safe from damage by preventing it from powering on in case there is not enough current. This safety feature can also automatically disable the port in the event of an electrical short, or if the current is over 350 mA for IEEE802.3af or 600 mA for IEEE802.3at.
General features
PoE + Data Port (out)
•
Supports half/full-duplex operation
Data Port (in)
•
Supports half/full-duplex operation
LED Indicators
Physical parameters
Dimensions (L x W x H)
Weight
Power
•
Power Adapter: 54 V / 0.6 A (replaceable AC plug)
•
Max Consumption: 32.4 watts
Temperature
Humidity
•
Operating: 5% to 95% non-condensing
•
Storage: 5% to 95% non-condensing
Certifications
Order info
DPE-301GI 1 Port Gigabit PoE Injector