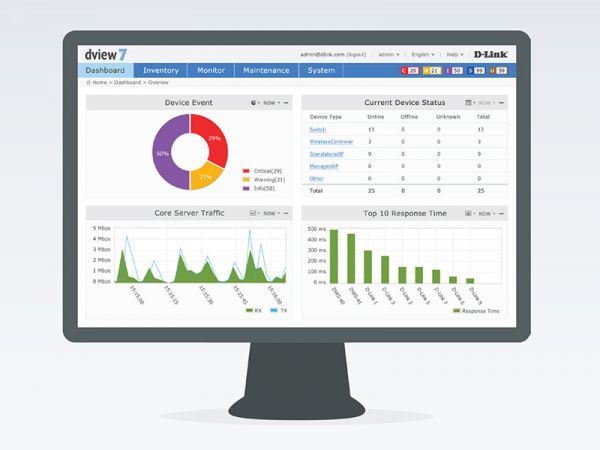 Description
The D-View 7 Network Management System is a comprehensive standards-based management tool designed to centrally manage critical network characteristics such as availability, reliability, resilience, and security in a consistent way. Flexible and versatile, D-View 7 uses cutting-edge web technology to provide a comprehensive software toolbox that can be accessed without the need to install software onto the client.
Flexible Architecture
D-View 7 is organized into a server-probe architecture, which simplifies data collection across complex networks. Monitoring and configuring multiple devices at remote locations, across the Internet, or behind a NAT is no longer an issue with the D-View 7. Remotely deployed probes will automatically tunnel home, allowing for the management of devices that cannot be directly accessed using standard SNMP. When a device is selected for management, D-View 7 probes will relay the command to the devices and then report its data back to the server.
Simplify Network Management
D-View 7 supports various predefined configuration templates which can help administrators manage multiple devices easily. For complex configurations, D-View 7 also has the ability to deploy CLI scripts across multiple devices simultaneously. This allows D-View 7 to support a wide range of configuration features and virtually any device as long as it supports CLI settings.
With a highly customizable scheduling system, D-View 7 allows administrators to assign tasks to be issued during off-peak hours or any other planned maintenance time frame. This ensures that routine maintenance tasks and configurations will be automatically managed and monitored by the event notification system. D-View 7 also supports periodic tasks which can be run daily, weekly, monthly, etc.
Manage Third-party Devices
Network administrators can customize the SOID and related information of virtually any third party device so they can be identified by and managed through D-View 7. This allows administrators to check the health status of those devices, issue CLI commands, and do standard management and monitoring. Combined with the new D-View 7 graphical dashboard, network administrators can get near real-time feedback on the status of their network.
Enhanced Trap and Syslog Analysis
D-View 7 also functions as a trap and syslog server which can collect all of the trap or syslog data from multiple devices across a network. This gives network administrators a centralized place to collect important data, which can then be searched easily from within D-View 7. The advanced search system lets network administrators set keyword combinations, and generate alarms based on events that are reported in the trap or syslog feature.
General features
Architecture
• Supports standard server client web architecture
• Supports multi-tenant architecture
• Supports probe design to collect data from remote sites without VPN or behind NAT
User Management
• Supports read-write and read-only privileges by modules
Supported languages:
• English
• Simplified Chinese
• Traditional Chinese
Device Discovery
• Supports SNMP v1, v2c, v3 scanning
• Supports IPv4 address range scanning
• Supports smart scan by neighborhood
• Supports cross-LAN discovery using probes
Link Discovery
• Supports LLDP, FDB-based link discovery
Auto-Discovery
• Supports periodical discovery with specific time interval
Inventory Management
• Supports inventory and devices export
• Supports device grouping by labels (a single device can belong to multiple labels)
Dashboard
• Supports overall system and product summary for wired or wireless devices
• Supports customized dashboard
Sensor
• Data collection methods:
SNMP
Ping
Topology View
• Supports auto-topology generation
• Supports customized topology generation
• Supports devices status display
• Supports link status display
• Supports different structure of topology (tree type, start type)
• Supports multi-layer topology for following views
• Supports customized background image overlay for following views
Panel View
• Supports panel and LED status of switches
• Supports panel view with stacking switches
Status Polling
• Status polling methods:
SNMP
Ping
• Supports customized polling time for each device or by group
Events & Notifications
• Supports customized criteria or thresholds to trigger events based on rules:
Value match
Keyword match
Keyword combination match
• Supports customized escalation rules
• Supports e-mail notification to defined users
Device Configuration
• Supports predefined templates to quickly configure single or multiple devices
• Supports script dispatch with variables (such as IP, system name, etc.) defined by each device
Firmware Upgrade
• Supports firmware upgrades for single or multiple devices
Configuration Backup & Restoration
• Supports one-time scheduled config backup for single or multiple devices
• Supports periodically scheduled config backup for single or multiple devices
• Supports config restore from a server file or user-uploaded file for single or multiple devices
Task Management
• Supports one-time scheduled tasks
• Supports periodically scheduled tasks
Minimum System Requirements (Server System) - Supports 64-bit, English OS versions only
CPU
• Dual core 3.0 GHz or above
DRAM
• 8 GB or more
Hard Drive Space
• 120 GB or more (depending on the number of managed device
Core Server must be installed on the system drive (C-drive)
MongoDB is recommended to be installed on a different drive (e.g. D, E)
OS
• Windows 8 Professional Edition or above (64-bit)
• Windows 7 Professional Edition or above (64-bit)
• Windows 10 Professional Edition or above (64-bit)
• Windows Server 2012 Standard Edition or above (64-bit)
• Windows Server 2008 R2 Standard Edition or above (64-bit)
Minimum System Requirements (Probe System) - Supports 32 and 64-bit, English OS versions only
CPU
• Single core 2.0 GHz or above
RAM
• 2 GB or more
OS
• Windows 8 (32 or 64-bit)
• Windows 7 (32 or 64-bit)
• Windows 10 (32 or 64-bit)
• Windows XP (32 or 64-bit)
• Windows Server 2012 (32 or 64-bit)
• Windows Server 2008 (32 or 64-bit)
Minimum System Requirements (Client System)
Browser
• Chrome, Firefox, and IE 10 or above
Order info
D-View 7 Network Management System