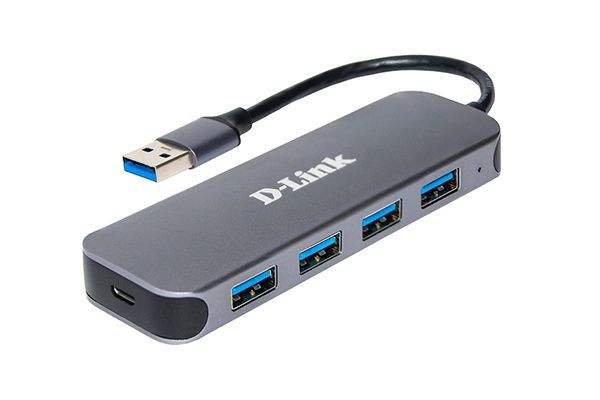 Description
The D-Link DUB-1341 4-Port USB 3.0 Hub provides an easy way to add four USB 3.0 ports to your notebook or desktop computer. Connect additional USB devices like digital and web cameras, card readers, hard drives, mice, keyboards, printers, scanners, and other peripherals to your PC using the DUB-1341.
Add Four USB 3.0 Ports to Your Computer
With the DUB-1341 4-Port USB 3.0 Hub, you can conveniently add more USB 3.0 ports and connect up to four USB peripheral devices. USB 3.0 technology supports data rates of up to 5 Gbps, which means that you can enjoy faster transfer speeds compared to previous USB standards.
Plug-and-play support
Simply connect the DUB-1341 to any PC. It's that easy - no drivers or software installation is required. Now you can connect up to four additional USB devices to your laptop, notebook, or desktop computer.
General features
Interfaces
• Four USB 3.0 Type-A downstream ports
• One USB 3.0 Type-A connector
LEDs
• Power LED
Standards
• USB 3.0
• USB 2.0
• USB 1.1
• OHCI
• UHCI
• EHCI
• xHCI
Data rate
• Up to 5 Gbps
Connectivity rules
• Up to 127 devices
• Up to five cascaded hubs 
System requirements
• Available USB port (USB 3.0 is recommended)
• Windows XP/Vista/7/8/10, Mac OS, Linux
Physical Parameters
Dimensions (L x W x H)
• 100 x 31.6 x 11.6 mm
Power input
• From PC (USB bus powered)
• 5 V / 3 A DC power adapter (Micro-USB) (not included)
Temperature
• Operating: 0 to 40 °C
• Storage: -20 to 70  °C
Humidity
• Operating: 10% to 90% non-condensing
• Storage: 5% to 90% non-condensing
Order info
DUB-1341 4-Port USB 3.0 Hub