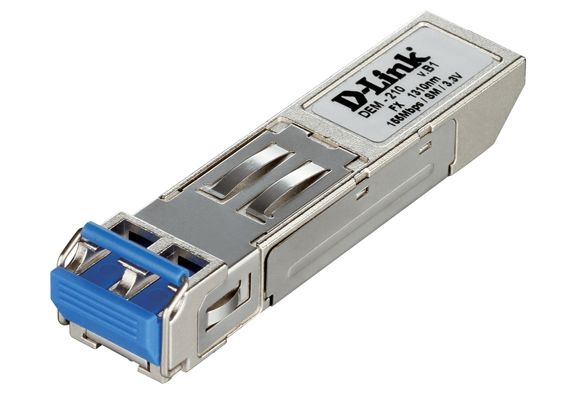 DEM-210
SFP Transceivers 1 port 100Base-FX for singlemode fiber optic cable, power supply 3.3V (up to 15km)
Where to buy
Description
D-Link's DEM-210 and DEM-211 SFP transceivers provide a high performance solution for serial optical data communication applications. They are hot-swappable, Small Form Factor Pluggable (SFP) compliant with the Multi-Source Agreement (MSA) specification. The transceivers have duplex LC connectors and provide IEEE 802.3u compliant link for up to 100Mbps in the half duplex mode (or 200Mbps full-duplex mode) transmission for fiber cable applications.
D-Link's highly integrated transceivers offer low jitter performance for extended optical links support without performance degradation. This high performance enables reliable data transfer in short-, intermediate- and long-distances for building, factory, campus and metropolitan networking applications. 
Previous combo-port switch designs have only provided Gigabit copper or SFP fiber-optic connectivity but not 100BASE-FX SFP fiber-optic connectivity. Switch designs like the DES-1226G and DES-3526 are of the former type. 
D-Link now provides 100BASE-FX SFP fiber-optic connectivity on Gigabit combo SFP ports for new switch model designs1. 
1 The current list of D-Link switches that support the new module includes the following: DES-1228, DES-1228P, DES-1252, DHS-3028, DHS-3628F, DHS-3626F, DGS-3612G.
General features
Cable
Single-Mode Fiber
Fiber Type
9/125um Single-Mode
Max. Cable Distance
15 km
Standard
802.3u 100BASE-FX
Data Rates
100Mbps
Port Type
Duplex LC
RoHS Compliant
Wavelength
1310nm
Order info
DEM-210/10/B1  SFP Transceivers 1 port 100Base-FX for singlemode fiber optic cable, power supply 3.3V (up to 15km)