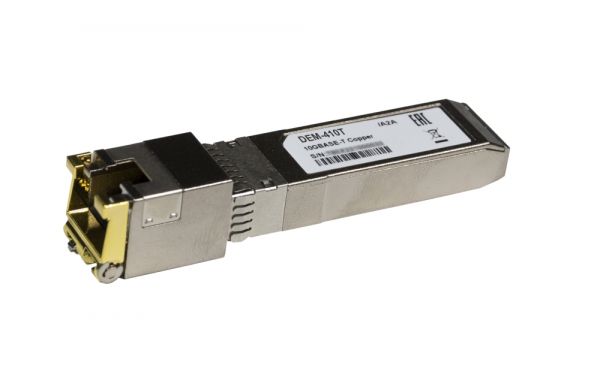 DEM-410T
10GBase-T Copper SFP+ transceiver (up to 30 m)
Where to buy
Description
D-Link's 10G SFP+ Module series are hot-swappable transceivers that plug into SFP+ slots on switches and support 10G Ethernet. The D-Link 10GBase SFP+ Module Series transceivers offer customers a wide variety of 10G Ethernet connectivity options for data centers, enterprise wiring closets, and service provider transport applications. The DEM-410T provides data transmission up to 30 meters on the common Category 6a twisted-pair network cable.
The DEM-410T uses the Enhanced Small Form-factor Pluggable format (SFP+). The SFP+ form factor is smaller than other form factors such as Xenpak, X2, and 10G XFP, ensuring lower costs, lower power disruption, and higher port density.
The DEM-410T transceiver uses RJ45 connector for twisted pair connection. It conforms to industry standards and is interoperable with D-Link 10 Gigabit Ethernet switches. All D-Link transceivers are hot-pluggable. Hot-swap capability allows network administrators to plug or unplug it from the SFP+ slot without having to turn off the power of the connected device.
General features
Standard
• IEEE 802.3an 10GBase-T
• IEEE 802.3ab 1000Base-T
Transceiver Type
• SFP+
Connector
• RJ-45
Data Rate
• 10 Gbps
Maximum Cable Length
• 30 m
Cable Type
• Category 6a twisted-paircable, Category 5e twisted-paircable
Supported Features
• Hot swap
• MSA compliant
• RoHS compliant
Physical Parameters
Power Support
• 3.3 V
Supply Current
• 320 mA (typical)
• 375 mA (maximum)
Temperature
• Operating: 0 to 70 °C
• Storage: -40 to 85 °C
Humidity
• Operating: 0% to 85%
• Storage: 0% to 85%
Dimensions
• 67.8 mm x 13.7 mm x 8.5 mm
Order info
DEM-410T/A2A  10GBase-T Copper SFP+ transceiver (up to 30 m)