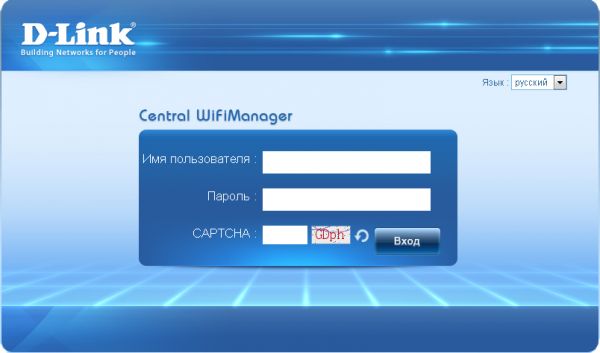 CWM-100
Central WiFiManager
Description
Central WiFiManager is D-Link's latest tool to help network administrators streamline their wireless access point management workflow. Central WiFiManager is an innovative approach to the more traditional hardware-based multiple access point management system and uses a centralized server to both remotely manage and monitor wireless access points on a network. Whether deployed on a local computer or hosted on a public cloud service, Central WiFiManager can be easily integrated into existing networks to help eliminate existing bottlenecks for wireless traffic.
Extendable, Affordable Business Wireless Solution
Designed from the ground up as a standalone software controller, D-Link Central WiFiManager is flexible, robust, and feature rich. It comes ready to run with many enhanced enterprise wireless access point (AP) features to provide a solid wireless network system for customers who need a centralized management controller. Central WiFiManager can be deployed onto a server running Microsoft Windows2 and can manage up to 500 APs3 without an additional license charge. Central WiFiManager currently supports 6 different models of D-Link Access Points1.
Robust Security and Management Tools
Central WiFiManager supports multi-site deployment management as well as multi-tenancy management. This allows network administrators to provide different management authorities between head and regional offices, and allows service providers to offer a managed wireless network for their customers. Sites can be logically separated with their own configuration, access security, network map, and statistics. For example, a network operations manager could pre-configure APs before dispatching them to regional offices. He can then manage all of the APs on an enterprise intranet, while allowing local administrators to manage APs that are only present on their local network. The service provider can simply send a pre-configured AP to a customer and then remotely manage the customer's wireless network access and security.
For wireless access, D-Link SMB APs can support 8 SSIDs per radio, which means administrators can use one SSID to create a guest network for visitors. Central WiFiManager expands on that built-in feature and allows for multiple user authentications. Access controls can be configured per SSID as well, allowing network administrators to configure separate internal networks for different subnets. This means that more advanced value added services such as a captive portal or Wi-Fi hotspots can be used to help manage wireless network traffic.
Flexible Expansion and Deployment Options
Unlike traditional hardware controller solutions for managing wireless access points, Central WiFiManager has a much lower initial investment cost as it comes bundled with many D-Link access points1 and there are no per access point license charges. With the simple to use installation tool, it is easy to expand the wireless network in the future. Adding devices to Central WiFiManager is done automatically when new access points are discovered on the network, allowing new devices to be quickly managed and deployed. Central WiFiManager also automatically manages RF output for multiple access points, optimizing the number of available wireless channels and coverage. This results in reduced channel interference and provides faster total bandwidth throughput and connection reliability. By optimizing the coverage area and connection quality, Central WiFiManager enables network administrators to provide better wireless service at a lower deployment cost, resulting in a higher return on investment.
Deploying Central WiFiManager is also much simpler compared to traditional hardware controller solutions as it can be installed on any server running a recent version of Microsoft Windows2. Central WiFiManager software operates transparently on the network meaning the access point can be deployed anywhere in a customer's Layer 2/3 environment. Management traffic to and from the target access points will go through an authorized tunnel to Central WiFiManager while normal network traffic will go through existing networking infrastructure unimpeded. The Central WiFiManager management interface is also remotely accessible via its built-in web server. Administrators can use a web browser to connect to computers with Central WiFiManager installed to manage their WLAN network and wireless access points from anywhere.
1Supported models: DAP-2695, DAP-2660, DAP-2690/B1, DAP-2360/B1, DAP-2330, DAP-2310/B1
2Supported Operating Systems: Microsoft Windows 7 or Windows Server 2008/2012
General features
 

11ac
Dual-Band

11n
Dual-Band

11n Single-Band

Model

DAP-2695

DAP-2660

DAP-2690

DAP-2360

DAP-2330

DAP-2310

H/W Version

A1

A1

B1

B1

A1

B1

IEEE Standard

802.11a/b/g/n/ac

802.11a/b/g/n/ac

802.11a/b/g/n

802.11b/g/n

802.11b/g/n

802.11b/g/n

2.4 GHz Speed

450 Mbps

300 Mbps

300 Mbps

300 Mbps

300 Mbps

300 Mbps

5 GHz Speed

1300 Mbps

900 Mbps

300 Mbps

 

 

 

Number of SSIDs

16 (8 per radio)

16 (8 per radio)

16 (8 per radio)

8

8

8

Ethernet Interface

2 x Gigabit Ethernet

1 x Gigabit Ethernet

1 x Gigabit Ethernet

1 x Gigabit Ethernet

1 x Gigabit Ethernet

1 x Gigabit Ethernet

PoE

802.3at

802.3af

802.3af

802.3af

802.3af

802.3af 4

Max Tx Power

27.5 dBm

2.4 GHz: 28 dBm
5 GHz: 26 dBm

23 dBm

26 dBm

28 dBm

26 dBm

Antenna Type

External

Internal

External

External

Internal

External

Antenna Gain

2.4 GHz: 4 dBi
5 GHz: 6 dBi

2.4 GHz: 3 dBi
5 GHz: 4 dBi

2.4 GHz: 4 dBi
5 GHz: 4 dBi

2.4 GHz: 5 dBi

2.4 GHz: 3 dBi

2.4 GHz: 2 dBi

Mounting Type

Wall/Desktop

Ceiling/Wall/ Desktop

Wall/Desktop

Wall/Desktop

Ceiling/Wall/ Desktop

Wall/Desktop

Security Lock

Yes

Yes

Yes

Yes

Yes

Yes

Power Adapter

48 V / 0.5 A

12 V / 1A

48 V / 0.5 A

12 V / 1 A

12 V / 1 A

12 V / 1 A

Maximum Power Consumption

18.2 W

11 W

10.67 W

7.9 W

4.8 W

6.5 W

PoE Kit in Package

Yes

No

Yes

No

No

No
Технические характеристики

Maximum APs per Device (Controller)

• 5003

WLAN Management Features

 

• AP grouping

• Multi-tenancy

• Visualized topology
• NAT pass-through

• Visualized topology

AP-Controller Connection Mode

• Bridge mode

User Authentication

Guest Portal

• Captive portal

Authentication Method

• Local

• LDAP

• POP3

• Voucher

• RADIUS

Hotspot Features

 

• Built-in support for voucher-based authentication

• Rate limiting and bandwidth control for guest and guest management

• Built-in hotspot manager for voucher creation and guest management hotspot portal guest management
Wireless features

RF Management and Control

• Auto Output Power Control

• Auto Channel

• Self-healing around failed APs

Multiple SSIDs per Radio(AP)

• 8

Advanced Wireless Features

• Band steering
• L2 roaming

• Bandwidth optimization

WIDS System

• Rogue AP detection

System Management

Management Interface

• Web-based user interface

Minimum System Requirements

• Computer running Microsoft Windows 7 or Windows Server 2008/2012

Online Check

• Firmware
• Module

Scheduling

• Firmware update

• Configuration update
3Number of wireless access points supported depends on the specification of the computer on which Central WiFiManager is installed. To support 500 APs, a computer with at least an Intel Core i5 3.2 GHz with 4 GB RAM and 2 TB hard drive is recommended.
4 PoE support determined by specific part 
Order info
CWM-100 Central WiFiManager