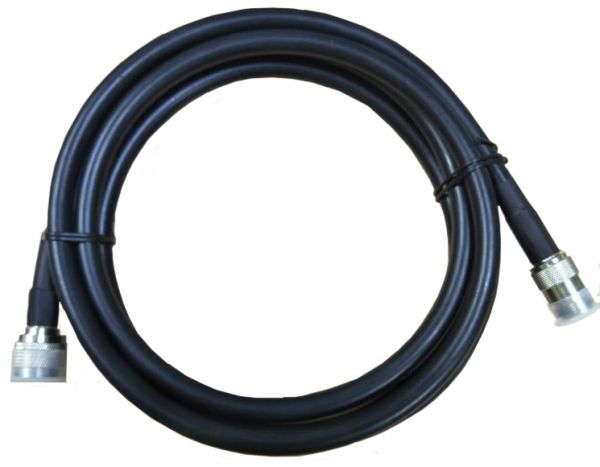 ANT24-CB03N
3 m LMR-400 Extension Cable with N Plug and N Jack for Antenna
Where to buy
Description
The ANT24-CB03N LMR-400 low loss extension cable with N Plug and N Jack connectors is designed for connecting antenna to local network wireless device. This cable can be used with the antennas operating both in 2.4 GHz and 5 GHz frequency ranges. The nominal impedance of the ANT24-CB03N is 50 Ohms.
A lot of wireless devices, such as access points and routers, are equipped with detachable external antennas. To extend the wireless network coverage you can replace them with the antennas that have higher gain. The 3 m length ANT24CB03N cable allows you to install an antenna connected to a wireless device in convenient place without reducing of signal strength and data transmission quality. This extension cable is suitable both for outdoor and indoor use. Wide range of
operating temperatures (-40 to 85 °C) allows you to use the extension cable in harsh environmental conditions.
General features
Cable type
• LMR-400
Connectors
• N Plug & N Jack
Operating frequency range
• 2.4 GHz - 2.5 GHz
• 4.9 GHz - 5.75 GHz
Impedance
• 50 Ohms
Insertion loss
• 0.6 dB - 0.75 dB @ 2.4 GHz - 2.5 GHz
• 1.06 dB - 1.25 dB @ 4.9 GHz - 5.75 GHz
VSWR
• 1.3:1 @ 2.4 GHz - 2.5 GHz
• 1.3:1 @ 4.9 GHz - 5.75 GHz
Cable jacket
• Black polyethylene
Physical Parameters
Cable length
• 3 m
Minimum bend radius
• 10.29 mm
Environmental Conditions
Environment
• Outdoor / Indoor
Weatherproof
• Yes
Operating temperature
• -40° to 85°C
Order info
ANT24-CB03N 3 m LMR-400 Extension Cable with N Plug and N Jack for Antenna