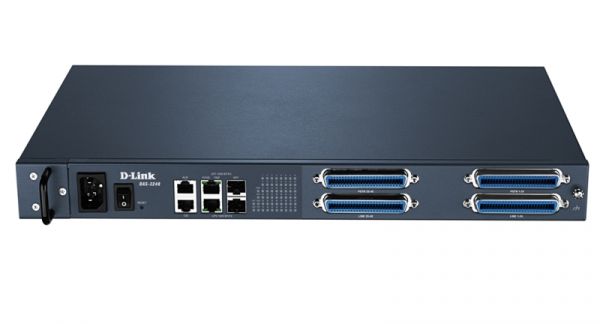 DAS-3248/EA
Project
Standalone 48 port ADSL2+ IP-DSLAM with 2x Combo uplink
Where to buy
Description
The DAS-3224/3248 IP DSLAMs are advanced CO devices with the capability to interface directly with evolving IP networks in a cost effective manner. The Gigabit Ethernet (GE) Network uplink interfaces on these IP DSLAMs directly connect to an Internet router or LAN switch.
These IP-based DSLAMs can be used by service providers to offer broadband multi-service features on the last mile access network via a copper based local loop. They offer ADSL, ADSL2, and ADSL2+ interfaces and deliver advanced IP services that include QoS, multicast, and subscriber management. These service features eliminate congestion of the bandwidth available to users to deliver smooth, easy and efficient passage of video, voice and data packets across the networks. This is know as "Triple Play" and allows for the provisioning of bandwidth-intensive and lesser bandwidth-intensive services at the same time. The DAS-3224/3248 series also supports network uplink aggregation, enabling the operator to combine both of the GE uplink interfaces into a single logical interface and thus extending the transmission bandwidth. Daisy Chaining is an another option, when implemented all units share a single GE uplink. Furthermore, Service Demarcation provides a way to separate traffic by assigning different VLAN IDs.
With the DAS-3224/3248 series, Relay Agent Information (DHCP Option 82) can be used by servers in order to implement IP address or other parameter assignment policies. The DAS-3224/3248 series offers MAC Limiting and MAC Filtering through its MAC Layer Service. The series also uses Single End Loop Testing (SELT) for proactive loop pre-qualification. Line quality is continuously verified while line length, line capacity and line termination are measured. Dual End Loop Testing (DELT) is primarily used for reactive tests on a loop after a modem has been deployed. This feature renders troubleshooting on lines with bad performance possible. Operation Management and Maintenance (OAM) is implemented for supervision, testing and performance monitoring. OAM loop-back cells are used to verify the integrity of a virtual path or virtual circuit between different nodes in an ATM network.
The DAS-3224/3248 series comes with a GUI management software. This software provides web-management features including real-time status monitoring. The IP DSLAMs also support Network Management System monitoring and administration tasks.
For Quality of Service, the DAS-3224 and DAS-3248 support IEEE 802.1p with 8 priority queues and DiffServ, a networking architecture that defines a simple, scalable and coarse-grained mechanism for classifying and managing network traffic. DiffServ is used to provide low-latency, guaranteed service (GS) such as voice or video, while providing best-effort traffic guarantees to non-critical services including web traffic or file transfers. Pack classification is based on MAC/IP addresses and TCP/UDP port numbers.
The DAS-3224/3248 IP DSLAMs are enclosed in 1.2U sized metal cases and can be used as desktop units or mounted on a standard equipment rack. They can be fitted in 19-inch and 23-inch racks using the optional rack mount-kit.
The DAS-3224 IP DSLAM comes with 24 ADSL subscriber ports and 2 combo interfaces (10/100/1000 Base-T or mini-GBIC optical interface). The DAS-3248 IP DSLAM comes with 48 ADSL subscriber ports and 2 combo interfaces.
Using any of the uplink types, it is possible to stack these IP DSLAM units and aggregate multiple units over a common network connection.
The rich features of the DAS-3224/3248 IP DSLAMs make them most economical and suitable solution for next generation broadband access platforms.
General features
Device Interfaces
ĥ RJ-45 to RS-232 female DB-9 adaptor cable
• Gigabit Ethernet out-band management
Network Uplink Interfaces
• 2 x combo interface (10/100/1000 Base-T or mini-GBIC optical interface)
ADSL Standards
• ANSI T1.413
• ITU-T G.992.1, (G.dmt) Annex A
• ITU-T G.992.2, (G.lite) Annex A
• ITU-T G.992.3 (ADSL2)
• ITU-T G.992.3 Annex L (RE-DSL)
• ITU-T G.992.5 (ADSL2+)
• ITU-T G.992.5 with Annex M
Front-Panel Switching Throughput
• Network uplink interface to network uplink interface: 1 Gbps per port
• Network uplink interface to ADSL access interface: minimum 16 Mbps per port
ADSL Subscriber Interfaces
• 48 ports (2 x RJ-21 connectors on front panel)
Alarm I/O
• 4 Alarm input contacts
• 1 Alarm output receptacle
ADSL Data Rate
• Upstream: 32 kbps multiples from 32 kbps to 2200 kbps
• Downstream: 32 kbps multiples from 64 kbps to 28000 kbps
ATM Protocol
• Ethernet over ATM (RFC 1483 bridge)
• IPoA (RFC 1483 route)
• PPPoA (RFC 2364)
• PPPoE (RFC 2516)
Certifications
• CE, EN 55022 Class A/CISPR 22, CB Report, IEC60950-1, RoHS Directive
Diagnostic LEDs
• Alarm, power, DSL status
Software Features
System Control
• Alarm Status Surveillance
- Automatic alarm and status reports
• Performance Monitoring
- Line rate
- Throughput monitoring
- RFC 2662/RFC 3440 compliant ADSL line performance parameters gathering
- Supports ICMP ping test
• Configuration
- Supports add, delete, query, and modify functions for configuration
- IGMP snooping setting ƒ VLAN setting
- STP/RSTP setting
- ADSL Subscriber line management per profile setting
- Supports MIB community string, community access privilege, Trap IP setting
- System firmware upgrade and download through TFTP
- BOOTP/DHCP client
• Security
- Supports security and multiple level login
VLAN
• Supports IEEE 802.1Q VLAN Tagging, Port-based VLAN, and GVRP
• Supports 512 VLANs concurrently
• Supports IEEE 802.1ad VLAN stacking and VLAN translation
Link Aggregation
• Supports 802.3ad static and dynamic link aggregation
QoS
• Supports IEEE 802.1p with 8 priority queues ƒ
• Supports DiffServ
• Pack classification basis on MAC/IP addresses and TCP/UDP port number
Multicast
• Supports IGMP snooping on IGMPv1, IGMP v2 and IGMP v3 membership
• Up to 256 Multicast Groups and 256 copies for each Multicast Group
• Broadcast storm control
Bridging
• 4 K MAC addresses
• MAC, IP, TCP/UDP port addresses filtering
• Supports DHCP/PPPoE intermediate (relay) agent ƒ Supports Option82 Circuit ID and Remote ID
Routing
• Supports IPOA router mode by IPOA to IPOE tunneling
• Supports PPPoA mode by PPPoA to PPPoE tunneling
Diagnostics, OAM and Access Control
• DELT Loop diagnostic protocol
• ADSL Subscriber MAC address number limiting ƒ ICMP Ping diagnosis
• ATM OAM F5 diagnosis
• Network management services control
Network Management
• CLI through console and Telnet
• SNMP manageable by SNMP v1/v2c ƒ Web management
• Provide configuration, fault, performance, security management
• Supports NMS
Management MIB
• RFC 1157 SNMP v1 ƒ SNMP v2c
• RFC 1213 MIB-II
• RFC 1493 Bridge MIB ƒ RFC 2233 IF-MIB
• RFC 2515 ATM MIB
• RFC 2674 802.1Q MIB
• RFC 2622 / RFC 3440 ADSL line MIB ƒ Enterprise DAS3248 MIB
Power
• AC Model: 100 - 240 VAC, 47 - 63 Hz
• DC Model: 85 Watt, 36 - 72 VDC, 2 Amp.
Dimensions
• 449.58 (W) x 320 (D) x 49.78 (H) mm (17.7 x 12.6 x 1.96
Size
• 19 or 23-inch rack-mount width including ear bracket, 1.2U rack-mount height
Temperature
• Operating temperature: -40° ~ 65°C
• Storage temperature: -40° ~ 70°C
Humidity
• 5%-95% Non-condensing
Order info
DAS-3248/EA Standalone 48 port ADSL2+ IP-DSLAM with 2x Combo uplink