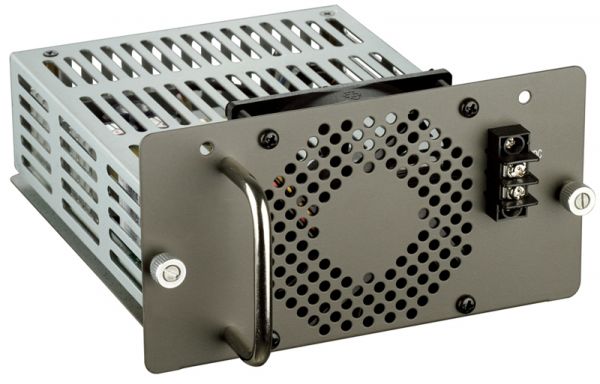 DMC-1001/DC
Project
DC Redundant Power Supply for the DMC-1000 chassis
Where to buy
Description

When the chassis is equipped with two DMC-1001 power supplies, both power supplies are switched on and share the current load. In case that one of them should fail, the other will instantaneously take 100% of the load without any loss. Similarly, if one power supply is removed from servicing, it can be switched off and removed while the chassis continues functioning.

Product Feature
• Efficiency: The efficiency is higher than 70% by measured at nominal line and rated load.
• Protection: Over voltage protection; short circuit protection.
• Power sharing and redundancy.
• Fan failure Signal: The power supply will provide a predictive fan failure signal that detects a failure based on reduced fan RPM.


General features

Input Voltage
• 40-70V DC

Output Voltage
• +12V

Power Consumption
• 150 watts. (max.)

Dimension
• 185 x 160 x 85 mm

Weight
• 1,07 kg

Temperature
• Operating: 0~40 C,
• Storage: -10~50 C

Humidity
• Operating: 10% ~ 90%,
• Storage: 5% ~ 90%

Overload Protection
• All outputs protected from short circuit condition, automatic recovery

Emissions
• FCC Class B, CE Class B, VCCI Class B

Safty Standard
• UL 1950CSA
• CSA 22.2 No.234
Order info
DMC-1001/DC DC Redundant Power Supply for the DMC-1000 chassis